"This Hour Has 22 Minutes" has somehow found a way to mix Netflix sci-fit hit "Stranger Things" with Canadian politics.
A new segment from the CBC comedy show, called "Stranger People," imagines Conservative leadership candidate Kellie Leitch's "Canadian values" test set in the show's spooky universe.
The skit starts with the show's Susan Kent playing Leitch (who also happens to be young psychic Eleven). She sits in a dim room with a Tim Horton's cup in front of her.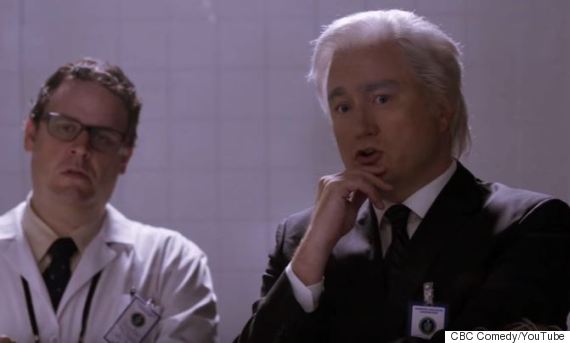 "22 Minutes" star Mark Critch plays weird researcher dude Dr. Martin Brenner from "Stranger Things." (Photo: CBC Comedy/YouTube)
"I'm going to introduce you to someone and I need you to tell me if they have Canadian values," says comedian Mark Critch, who plays "Stranger Things'" creepy-secretive-researcher Dr. Martin Brenner.
Letich, er, Eleven says she can do it, but admits she's scared.
"She was raised in total isolation, a sensory deprivation tank called the 'Harper government,'" Critch says. "She's not used to different people."
An "immigrant" played by Shaun Majumder is then brought in to be questioned by Leitch on important topics like doughnuts and Christmas lights.
It's a ridiculous concept, but the show manages to pull it off. It even had the creepy soundtrack down pat.
You can watch the full hilarious skit in the video embedded above.
Also on HuffPost
"Stranger Things" On Netflix