SAN FRANCISCO — Officials say a technician with the Cirque du Soleil "Luzia'' show who died after being hit in the head by an aerial lift Tuesday is the son of one of the founders of the show.
In a statement from Cirque du Soleil, officials confirmed that 42-year-old Olivier Rochette of Quebec died Tuesday night in San Francisco.
According to the statement, his immediate family, including his father Gilles Ste-Croix, one of the founders of Cirque du Soleil, has been informed of the accident.
"I am heartbroken. I wish to extend in my name and in the name of all Cirque du Soleil employees my sincerest sympathies and offer my full support to Gilles and his family. Oliver has always been a member of our tight family and a truly beloved colleague,'' said CEO Daniel Lamarre.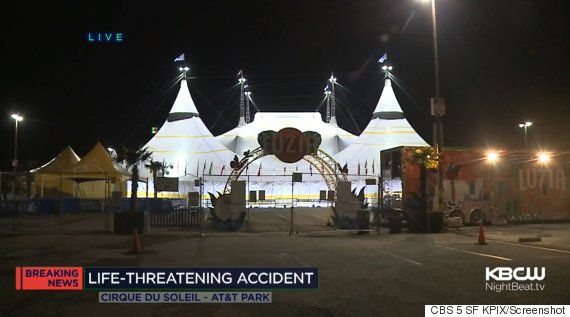 A Cirque du Soleil technician, later confirmed to be the son of the one of the show's founders, died after a Tuesday accident in San Francisco. (Photo: CBS 5 SF KPIX/Screenshot)
Police say officers with San Francisco Police Department Traffic Collision Investigation Unit and investigators with the state's workplace safety regulator, Cal/OSHA, are investigating.
Julia Bernstein of Cal/OSHA said Wednesday that the employee was struck in the head by an aerial device. The agency had no further information.
The Tuesday and Wednesday night shows were cancelled.
Cirque du Soleil has close to 4,000 employees, including 1,300 performing artists from nearly 50 different countries.
Also on HuffPost