The family of a 15-year-old Hamilton teen is shocked after he was brutally beaten by two men on his way home from a friend's house.
"He was just savagely beaten," aunt Salima Hafeez told the paper. "It's just heartbreaking — it's so meaningless, it's so senseless."
The teen successfully underwent surgery to repair a crack in his skull, his family told CBC News. His aunt, Huma Aslam, had initially said he had a blood clot in his brain, but later clarified.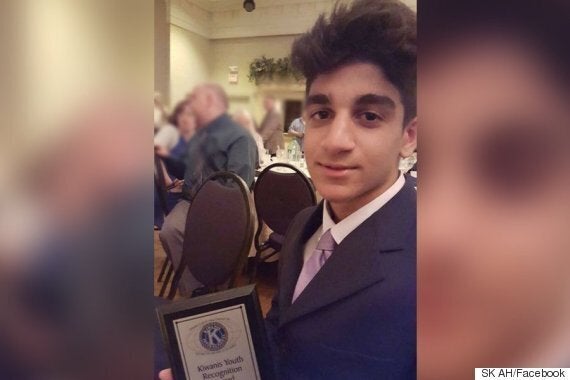 He still doesn't have full movement on his right side and is having trouble speaking.
"Noah's doctors indicate that his recovery will be a long process, and he will require extensive dental surgery, physiotherapy, learning aids, house aids, tutoring, etc," someone wrote on a GoFundMe page set up to raise money for medical expenses.
The campaign had raised more than $40,000 as of Friday morning.
Rabbani was walking around midnight on Sunday when a car drove up and stopped beside him, according to a Hamilton police news release.
Two men, one holding a baseball bat, got out. They came up to Rabbani and hit him with the bat several times. They then grabbed his backpack, got back in the car and left.
The suspects are described as white. The first man is described as 5'6" with a thin build, and the second is 5'8".
Aunt worried attack was a hate crime
Rabbani, who is in Grade 10, is also Muslim and from a Pakistani background.
Hamilton police told the Spectator there's no evidence yet that the teen was attacked because of his race or religion, but Hafeez is still worried about the possibility.
"Every bone in my body is hoping it's not hate and race related because my mind doesn't even want to go there," she said.
Rabbani wasn't carrying anything valuable in his backpack, his family told CBC News. He also had a watch and carried a phone, but neither of those items were taken.
But because of the teen's difficulty speaking, he still can't tell anyone much about the attack.
"What are we as a community going to do about it?"
Hafeez wrote in a Facebook post that has since been deleted that her nephew was quiet and kind, as well as a fantastic, well-liked student who has won many academic awards.
She said she wants the attackers caught but also wants communities to start talking about racism and Islamophobia, which she sees as being on the rise.
"The number of race-related attacks and vandalism in Canada seems to be increasing in this last month, even as many, like this one, go unreported in the media."
"What are we as a community going to do about it? What are our politicians going to do about it?"
EDITOR'S NOTE: Rabbani's family earlier told various news outlets that he had a blood clot, but later clarified that it was a cracked skull.