A group of 17-year-old students in Australia has recreated the key ingredient in a life-saving drug that saw its price dramatically hiked by "Pharma Bro" Martin Shkreli.
While he was head of Turing Pharmaceuticals, Shkreli increased the price of Daraprim from US$13.50 to $750. The drug is used in the treatment of toxoplasmosis, a lethal parasitic disease.
But according to BBC News, the students from Sydney Grammar re-created 3.7 grams of pyrimethamine — the essential component in the drug — for just $20.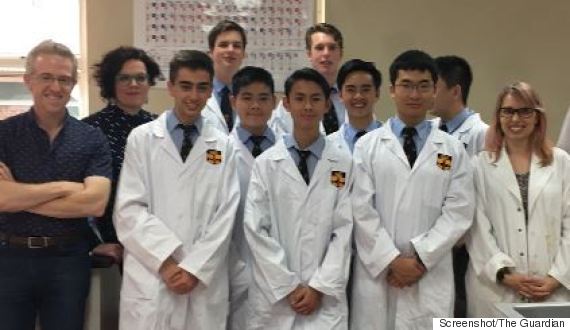 The group of students at the Sydney Grammar School received support from the University of Sydney on their project. (Photo: Screenshot/The Guardian)
That same amount in the U.S. would cost up to $110,00, the broadcaster reported.
"I said 'Why don't we get students to make Daraprim in the lab', because to me the route looked pretty simple," the University of Sydney's Alice Williamson, who supported the students in the year-long project, told The Guardian.
"I thought if we could show that students could make it in the lab with no real training, we could really show how ridiculous this price hike was and that there was no way it could be justified."
One of the students who worked on the project told the Sydney Morning Herald the dramatic saga behind the drug made the endeavour even more important.
'No excuse' for drug's price: Chemist
"If you can obtain it cheaply in schools, then there's no excuse for charging that much money for a drug," Williamson told the BBC.
"Especially from people that really need it and probably can't afford to pay for it."
"He was clearly trying to justify something driven by the profit motive," James Wood said.
"Working on a real-world problem definitely made us more enthusiastic," Austin Zhang, another student in the group, told the paper.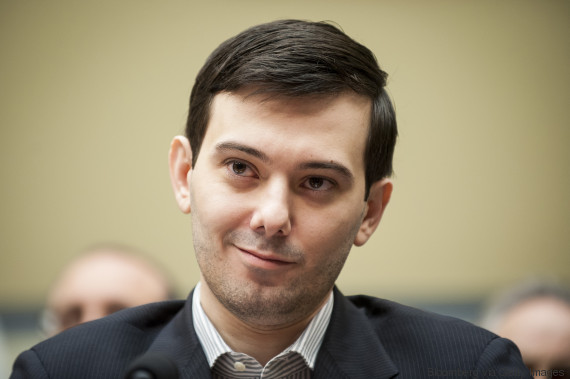 Martin Shkreli, former chief executive officer of Turing Pharmaceuticals LLC, smiles during a House Committee on Oversight and Government Reform hearing on prescription drug prices in Washington, D.C. on Feb. 4. (Photo: Getty Images)
Shkreli increased the price of Daraprim after Turing bought the rights to it in the U.S, a decision which invited widespread bashing and accusations of price-gouging.
The company eventually offered a 50-per-cent discount, but that reduced priced was still equivalent to roughly a 2,700-per-cent price increase over the original.
Months after the controversy, Shkreli resigned as chief executive of Turing after getting arrested and charged with securities fraud and conspiracy related to another company he ran.
With files from Dan Tencer and The Associated Press
Also on HuffPost