President-elect Donald Trump's pick for Treasury secretary has many observers worried the new administration will have little sympathy for struggling homeowners.
Trump's transition team announced Wednesday that Steven Mnuchin, a former partner at Goldman Sachs and a Hollywood producer with an estimated net worth of $40 million, has been tapped to run the U.S.'s government's finances.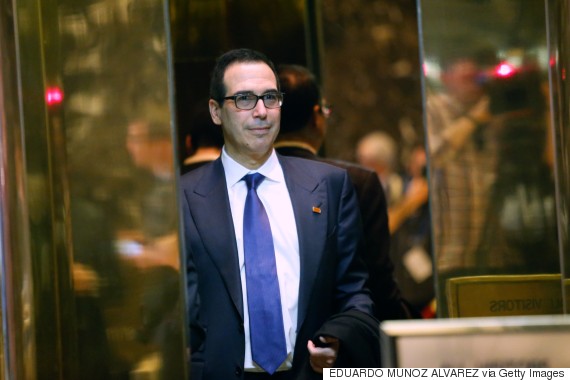 Advisor Steven Mnuchin arrives at the Trump Tower for meetings with US President-elect Donald Trump, in New York on Nov. 17. (Photo: Eduardo Munoz Alvarez/AFP)/Getty Images)
Mnuchin along with his partners co-founded OneWest Bank in 2009, as the U.S. housing bubble was bursting, buying the bad assets of the bankrupt IndyMac Bank.
Civic groups have accused OneWest of racist lending policies, and of carrying out predatory foreclosure practices.
According to a report at Politico, OneWest has since proceeded to foreclose on an estimated 36,000 homes, including that of a 90-year-old Florida woman, over a 27-cent discrepancy.
Two years ago, OneWest filed foreclosure papers on the Lakeland, Fla., home of Ossie Lofton, who had taken a reverse mortgage, a loan that supplies cash to elderly homeowners and doesn't require monthly payments.

After confusion over insurance coverage, a OneWest subsidiary sent Lofton a bill for $423.30. She sent a check for $423. The bank sent another bill, for 30 cents. Lofton, 90, sent a check for three cents. In November 2014, the bank foreclosed.
Mnuchin took a $10.9-million payout last year, when OneWest merged with CIT Bank, and remains on the company's board, Politico reports. That's despite the bank taking a $3.4-billion net loss on its mortgage business.
An alliance of affordable housing groups filed a complaint against OneWest earlier this year, accusing the bank of "redlining" — the practice of refusing to issue loans in minority neighbourhoods.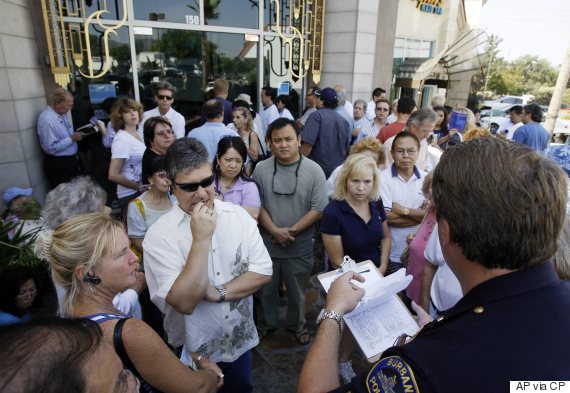 customers at IndyMac Federal Bank listen to Burbank Police Sgt. Matthew Ferguson's instructions as he reads names from a sign up sheet while they wait in line to pull as much money as they could from the failed financial institution in Burbank, Calif. on July 14, 2008. (Photo: Kevork Djansezian/AP via The Canadian Press)
OneWest lent money to "very few or no" racial minorities, refused to locate branches in minority neighbourhoods and did a far better job of reselling foreclosed homes in white neighbourhoods, the complaint alleges.
"We're just coming out of a foreclosure crisis and a serious economic downturn. It's not the time to appoint someone who sided with corporate America over real people," attorney Alys Cohen of the National Consumer Law Center told Politico.
"Mr. Mnuchin comes from Wall Street and has served monied interests over homeowners."
Mnuchin sings a different tune?
But Mnuchin himself has made noises that suggest he may be a little more on side with "the little guy" than his track record would suggest. He doesn't seem quite as enthusiastic about tax cuts for the rich as Trump himself.
Mnuchin has said wealthy households won't receive an "absolute tax cut" under the Trump administration — a statement that is "at odds" with Trump's own tax proposals, the Wall Street Journal reports.
"Any reductions we have in upper-income taxes will be offset by less deductions, so that there will be no absolute tax cut for the upper class," Mnuchin said.
Trump's plan would lower tax rates by so much that it couldn't be offset by eliminating tax deductions, tax experts told the WSJ.
Also on HuffPost
Donald Trump Win Sparks Protests Nationwide