An Ontario police officer could be demoted for what she saw as an act of kindness towards a kitten.
Const. Beth Richardson, who works for Durham Regional police, has been charged with discreditable conduct under the Police Services Act, according to a hearing notice obtained by CityNews.
She allegedly took a cat from its owner's home without consent or knowledge.
The incident happened in January, when Richardson visited an Oshawa home as a back-up officer to check on a drug user.
While at the woman's home, Richardson noticed a kitten cowering under a table, according to the hearing notice. She didn't think it was being properly cared for, so she took it with her without telling the owner.
The cat, named Tia, was dirty and thin with runny eyes, Richardson's lawyer, Joseph Markson, told the Toronto Sun.
"Her food and water dishes were empty and looked as if they had been dried up for days," he said.
"The owner was in a drug-induced frenzy and my client reasonably believed that the kitten was suffering and in immediate danger of being hurt."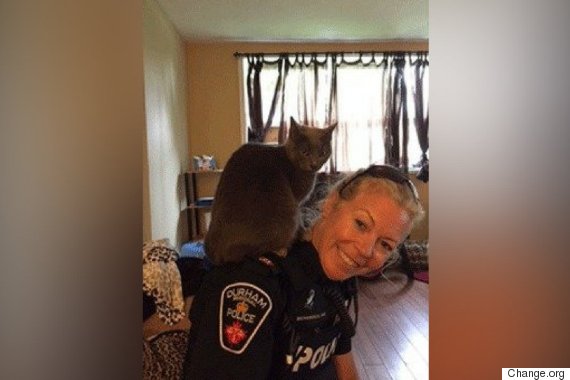 Const. Beth Richardson with a cat (not the one in the story) in a photo posted to a Change.org page. (Photo: Change.org)
Richardson took the cat to a veterinarian for a check up. But she didn't tell her supervisors about her actions or document what she did, according to the hearing notice.
Markson told the Sun his client planned to bring Tia to the humane society the next day, and said he thinks her only crime was being kind.
But the feline's owners called Durham Regional Police to demand the kitten be brought back, saying they wanted the cop charged with theft and her actions were caught on tape.
The cat was returned and the owners didn't lay any charges.
At risk of being demoted
She could be demoted if there is clear evidence of misconduct.
While the police see her as being in the wrong, others disagree.
"We shouldn't be punishing people who are helping animals, we should be rewarding them," Camille Labchuk, a spokeswoman for national animal rights group Animal Justice, told Oshawa This Week.
The organization plans to intervene in Richardson's hearing because they believe her actions align with her responsibilities as a cop.
Another supporter has started a Change.org petition.
Richardson is scheduled to appear at a hearing on Dec. 7 in Whitby, according to Oshawa This Week.
Also on HuffPost
Animal Cruelty Cases In B.C.