GATLINBURG, Tenn. — A Canadian couple is among the victims of a wildfire that ravaged the Smoky Mountains resort city of Gatlinburg, Tenn.
John Tegler and Marilyn Tegler, both in their 70s, are among 13 people who have died as a result of the fires that broke out earlier this week.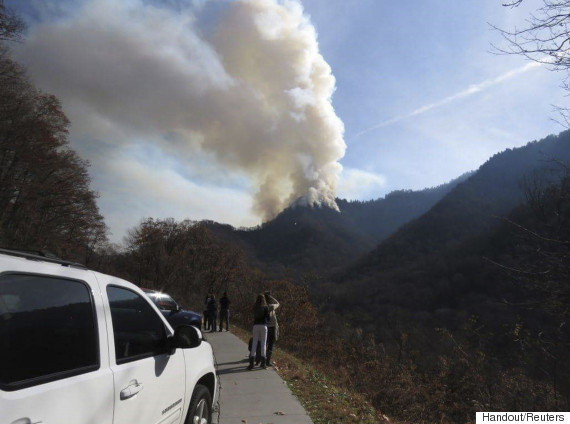 Motorists stop to view wildfires in the Great Smokey Mountains near Gatlinburg, Tenn. Nov. 28. (PhotoL National Park Services Staff/Handout via Reuters)
The Teglers, who are originally from Woodstock, Ont., were at their vacation home in the Smoky Mountains, close to Gatlinburg, celebrating the American Thanksgiving long weekend, their son-in-law said.
The couple tried to flee the fast-spreading flames of a wildfire on Monday night but weren't able to reach safety, he said.
"They didn't make it out of the mountains,'' Dave Lapointe told The Canadian Press. "They were found close to the home.''
'We lost two good people'
The couple's family was contacted about the pair's death on Thursday night, Lapointe said, noting that his wife — the couple's daughter — was on her way to Tennessee with her brother. The couple also had another daughter.
"We lost two good people,'' said Lapointe. "They were very family oriented, all around nice people.''
"They were going to go back to Georgia for a few weeks and return for Christmas up here."
In addition to their Smoky Mountains vacation home, the Teglers, who had dual American and Canadian citizenship, had a residence in Georgia as well, Lapointe said.
"They were going to go back to Georgia for a few weeks and return for Christmas up here,'' he said. "It's just a tragic end. They were together and they were in a place they liked to be.''
The victims of the wildfire also included a Memphis couple who was separated from their three sons. The three young men learned their parents had died as they were recovering in hospital.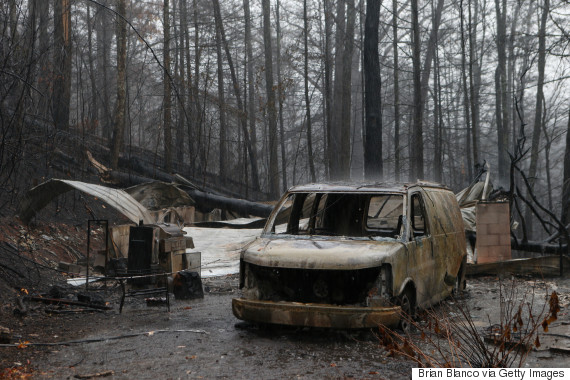 The remains of a van and home smolder in the wake of a wildfire on Nov. 30 in Gatlinburg, Tenn. (Photo: Brian Blanco/Getty Images)
Other fatalities included a woman who was vacationing in Gatlinburg and died of a heart attack after she was exposed to smoke. Identities for the other victims have not been released.
More than 14,000 people forced to evacuate
The trouble began Monday when a wildfire, likely caused by a person, spread from the Great Smoky Mountains National Park into the Gatlinburg area as hurricane-force winds toppled trees and power lines, blowing embers in all directions.
Gatlinburg's fire chief said more than 20 structures caught fire in a matter of minutes, starting a blaze which grew rapidly.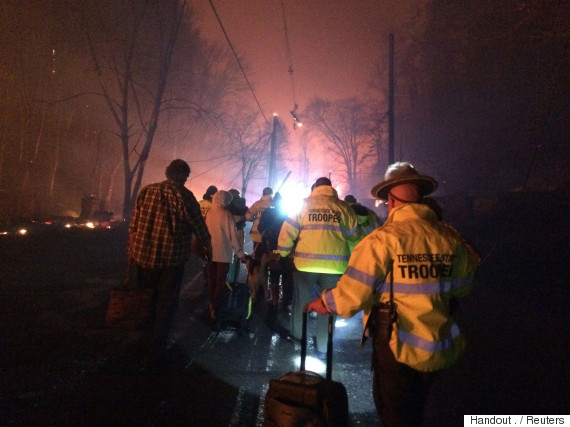 Troopers from the Tennessee Highway Patrol help residents leave an area under threat of wildfire after a mandatory evacuation was ordered in Gatlinburg, Tenn. in a picture released Nov. 30. (Photo: Tennessee Highway Patrol/Handout via Reuters)
More than 14,000 residents and visitors in Gatlinburg were forced to evacuate, and the typically bustling tourist city has been shuttered ever since.
Local officials bowing to pressure from frustrated property owners said they would allow people back into most parts of the city Friday morning, with residents having to go through a check point showing proof of ownership or residency.
"I can't describe to you the feelings we have over this tragedy."
Officials hope to open the city's main roads to the public by Wednesday.
Cause of fires likely 'human-caused'
Sevier County Mayor Larry Waters said the number of buildings damaged by the wildfire is now approaching 1,000.
"I can't describe to you the feelings we have over this tragedy,'' he said during a news conference with the governor and U.S. senators.
Great Smoky Mountains National Park Superintendent Cassius Cash has said the fires were "likely to be human-caused'' but has refused to elaborate, saying only that the investigation continues. Agents from the Bureau of Alcohol, Tobacco, Firearms and Explosives are helping investigate the cause.
— with files from the Associated Press
CORRECTION: An earlier version incorrectly identified Mrs. Teglers' name as Janet. This version has been updated.
Also on HuffPost
Fort McMurray Wildfire (May 2016)