HALIFAX — Nova Scotia is closing all its school Monday as teachers take job action over failed contract negotiations.
The provincial education minister told reporters Saturday that it cannot ensure students' safety under the Nova Scotia Teacher Union's planned work-to-rule job action.
"The safety of our students is paramount in all of this,'' Karen Casey said. "What we're saying to parents is that we recognize that this will be an inconvenience in the short-term, but we believe that the responsibility to ensure that their students are safe is a priority and we will err on the side of that.''
The union representing 9,300 public school educators has directed staff to go to school 20 minutes before class begins and leave 20 minutes after it ends.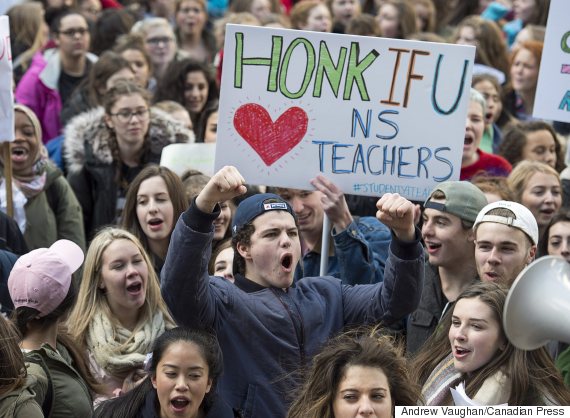 Students from Citadel High School protest outside the legislature in Halifax on Friday. Students across the province expressed their support for teachers after contract talks between the Nova Scotia Teachers Union and the province broke down. (Photo: Andrew Vaughan/Canadian Press)
Casey said after consultations with school board officials, the provincial government determined that the job actions proposed by the NSTU could "put our students in an unsafe environment.'' She cited concerns about students being stranded in schoolyards, unsupervised in classrooms and children with special needs arriving on buses and getting to class without teacher assistance.
Casey said the province plans to bring forward legislation that will brings students back to school "as quickly as possible.'' The legislation will impose the tentative agreement reached by the province and the teachers union in September as an NSTU contract through July 2019. If passed, the legislation would make strike action illegal.
Under the new contract for teachers included in the upcoming legislation, Casey assured that there will be "no interruption'' in the examination periods or other programs overseen by teachers.
The Nova Scotia House of Assembly has been called to resume Monday, according to a statement from the speaker's office, by reason of "the public interest.''
"It think it's become obvious that the work-to-rule has gone beyond the definition of a work-to-rule."
Teachers are presented with a "conflicting decision'' between the directives of their union and their responsibilities under Nova Scotia's education act, said Casey.
"It think it's become obvious that the work-to-rule has gone beyond the definition of a work-to-rule, and has infringed on what teachers are expected to do under the act,'' she said. "The obligations and the responsibilities that teachers have under the act, which is for supervision of students.''
Casey assured the province "is not locking the union out.'' The schools are closed to students, she said, but teachers and staff are expected to show up at work Monday.
The job action was announced after contract talks between the NSTU and the provincial government fell apart last week.
Also On HuffPost: