It's snowing in Hawaii.
The tropical island's highest peaks were blanketed in half a metre of snow Saturday evening, and more is on the way.
The U.S. National Weather Service issued a winter storm warning for Mauna Loa and Mauna Kea, the two highest volcanic peaks in the state.
The service warned of temperatures dipping below -30 C, strong winds and as much as 30 centimetres of snow by Monday.
WINTER STORM WARNING for Big Island summits. View of Mauna Loa looking toward Mauna Kea this morning. Up to a foot of snow possible. #hiwx pic.twitter.com/94ITamK27P

— Ben Gutierrez (@bengutierrez) December 1, 2016
While it may seem odd to think of snow falling over Hawaii, but it's actually not that rare.
"It snows here every year, but only at the very summits of our three tallest volcanoes (Mauna Loa, Mauna Kea and Haleakala)," Ken Rubin, a geology professor at the University of Hawaii, told Weather.com.
The two volcanoes reach altitudes of about 3,700 metres — which is close to the altitude of the Rockies.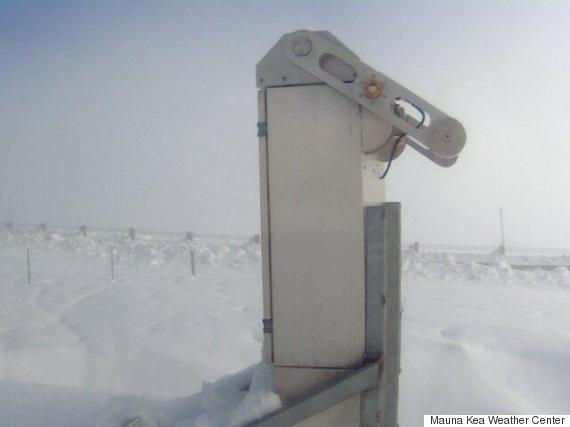 A web cam shows the conditions at Mauna Kea's peak on Sunday morning. (Photo: Mauna Kea Weather Centre)
Unfortunately for those on the Big Island, it might be tough to see the snow up close. The roads leading to both summits are currently closed. Hiking and camping are also prohibited, Hawaii News Now reported.
Follow The Huffington Post Canada on Facebook, Twitter, and Instagram.
Also on HuffPost
Spectacular Beaches in Hawaii