UPDATE: Dec. 8, 2019 — Police have returned the ashes to the family after both the purse and the ashes were recovered on Dec. 7.
---
A Medicine Hat couple, already heartbroken over the loss of their youngest son, is desperately seeking his ashes which were stolen last week in Calgary.
Last Friday, Laura Hudson's purse was stolen from the bar of a Calgary hotel where she was staying with her husband.
They were in town to attend a ceremony honouring their child, Hunter, at the Alberta Children's Hospital, reported Global News.
Hunter, the couple's fourth child, drowned during the summer.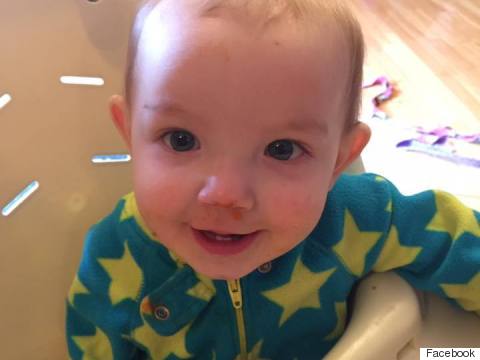 Hunter Hudson's ashes were stolen, along with his mother's purse, from a Calgary hotel bar. (Photo: Facebook)
After the ceremony, the couple decided to head to the hotel pub located inside the Sheraton Cavalier Hotel on 32 Avenue N.E.
According to police, Laura and her husband, Nathan, were playing VLTs for a short time when she noticed her purse was gone.
Inside the missing bag were her son's ashes, which she brought with her to the ceremony.
"It happened so fast," Nathan told Postmedia. "We had our backs turned for a minute, and someone grabbed the purse and left."
Hotel surveillance footage (watch above) shows two woman entering the hotel bar. One looks around quickly, while the other one snatches the purse.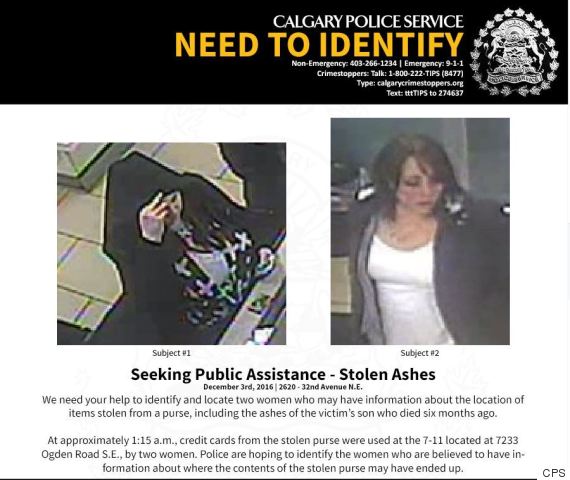 Calgary police are looking for these women, who may have information about the case. (Photo: Calgary Police Service)
Police say the women were seen leaving in a silver, four-door car, possibly a 2008 or newer Mitsubishi Lancer.
The credit cards from the stolen purse were used at an Ogden 7-11 early Sunday morning.
"It's like losing him all over, but we don't even have his body anymore," Laura told Postmedia. "He's lost somewhere in Calgary. I just feel kind of empty."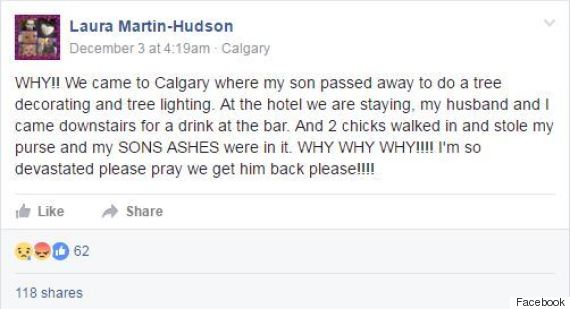 Laura Hudson posted an emotional update to a Facebook prayer group dedicated to her son. (Photo: Facebook)
Laura and Nathan will head back to Medicine Hat Monday without their son's remains.
Friends of the family have set up a GoFundMe campaign to raise money for a reward for the return of the ashes.
ALSO ON HUFFPOST:
Calgary's Most Wanted (Dec. 2016)