It's 2016 and it doesn't look like racism is going away any time soon.
While some may argue that the world has become more inclusive of many ethnicities and races, Dutch traditions like Zwarte Piet proves we have a long, long way to go.
Zwarte Piet, who is also known as Black Pete, is Sinterklaas' (Santa Claus') helper. Participants in the parade paint their faces black, don bright, red lipstick and wear curly, afro wigs to depict the figure — a look which is quite similar to minstrel characters.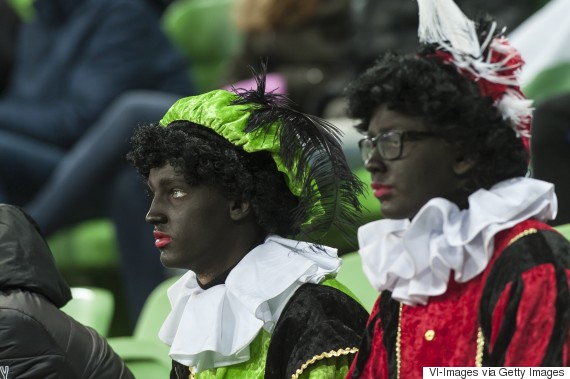 But the tradition doesn't only take place in Europe.
In Canada, Edmonton festival participants also wear full blackface to celebrate, and many don't seem to have any issues with it.
"It's meant as a family festivity to celebrate with the children and the spirit of giving," Dutch Delicious bakery owner Siebe Koopman recently told Global News.
However, some aren't afraid to take the festival goers to task for the longtime celebration.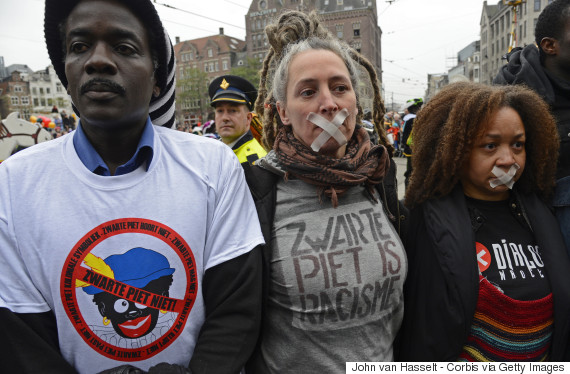 Protesters express their opposition to the character of Black Pete at a parade in Amsterdam, as a police officer looks on. (Photo: John van Hasselt/Corbis via Getty Images)
"I don't think that's a good excuse to say 'hey listen, this is a longstanding tradition, we don't want to offend people, so don't be offended,'" Jesse Lipscombe, founder of the Make It Awkward campaign, said to Global News. "As it turns out, some things that have been tradition for a long time offend the crap out of people."
Festival organizers in the Netherlands have heard the complaints loud and clear, and according to the BBC video above, tried to modify Zwarte Piet's look this year to be less offensive, however, many citizens did not want to let go of his traditional look.
Ugh.
Also on HuffPost