New Democrats are urging Prime Minister Justin Trudeau to fire who they see as one of the worst performing ministers in his cabinet — him.
In addition to his duties as prime minister, Trudeau also serves as minister of intergovernmental affairs and youth.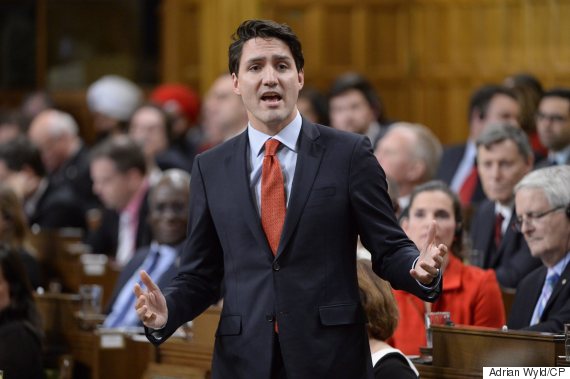 Prime Minister Justin Trudeau speaks in the House of Commons on Dec. 7. (Photo: Adrian Wyld/CP)
NDP youth critic Anne Minh-Thu Quach pointed out in question period Wednesday that Trudeau has not answered any of her questions in the last year. She said such silence undermines his pledge that ministers should be accountable.
Whether it's the refusal to decriminalize marijuana before legalizing the drug or the recently approved Kinder Morgan pipeline expansion, Minh-Thu Quach said the interests of young Canadians aren't being reflected in the federal government.
"I'm not even talking about the many broken promises made to aboriginal young people," she said.
Min-Thu Quach asked why Trudeau doesn't just step aside and appoint a minister with a "true interest in young people."
Trudeau did not answer his critic's question. Instead, Labour Minister MaryAnn Mihychuk, rose to sing praises of her boss.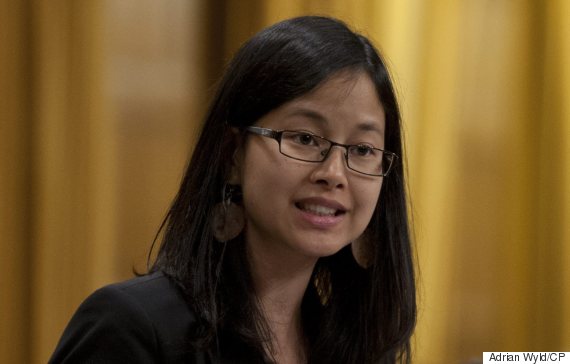 NDP MP Anne Minh-Thu Quach speaks in the House of Commons on June 5, 2012. (Photo: Adrian Wyld/CP)
Mihychuk said Liberals are proud to have a prime minister who takes so seriously the challenges facing youth that he put himself in charge of the file. She also lauded the creation of an expert panel on youth employment, set to release a report this month.
NDP MP Niki Ashton was up again with another question for the minister of youth.
Ashton said young Canadians thought they'd have a champion when Trudeau gave himself the job last November, but instead he has been "one of the worst performing ministers in the Liberal cabinet."
Trudeau is encouraging police to dish out criminal records for pot possession, backtracking on promises of electoral reform, and not doing enough on issues of precarious work, Ashton said.
"Will the prime minister do the right thing and resign as minister of youth?" she asked.
"One of the worst performing ministers in the Liberal cabinet."
Once again, Trudeau did not respond to the question.
Mihychuk instead rhymed off youth-related investments Liberals have made, including $165 million for a youth employment strategy and "$1.5 billion to increase Canada's student grants."
The youth wing of the NDP also released a letter Wednesday urging Trudeau to find a new youth minister who will "take the job seriously."
The letter mentions much of what Ashton raised in the House of Commons, with the additional criticism directed at the way Liberals adopted the last government's "unambitious greenhouse gas reduction targets."
Proud of our youth wing for standing up for young Canadians everywhere. https://t.co/0YGl9N8Hvx

— Tom Mulcair (@ThomasMulcair) December 7, 2016
The youth wing also said that Trudeau scolded young people for "bad behaviour" when he was recently challenged on such issues.
Last month, dozens of delegates at a youth labour forum turned their backs on Trudeau, with some heckling and jeering the prime minister.
Trudeau did not take the slight kindly, however, telling the room it was a "little bit frustrating" to make time for the group only to see people "standing in a way that shows they're not listening."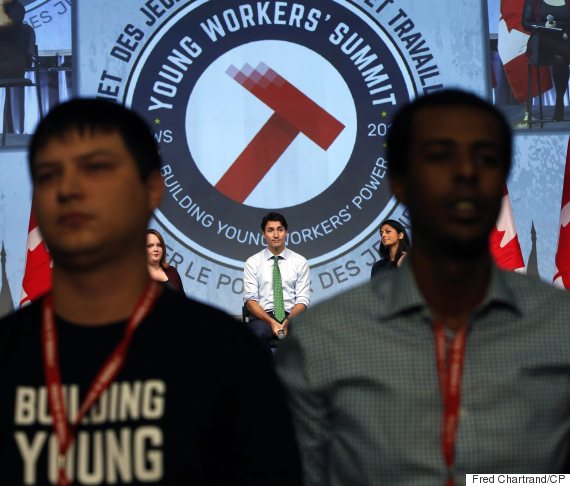 Protesters turn their backs on Prime Minister Justin Trudeau as he addresses the Canadian Labour Congress National Young Workers' Summit in Ottawa on Oct. 25. (Photos: Fred Chartrand/CP)
In question period, Trudeau typically only responds to party leaders such as Rona Ambrose, Thomas Mulcair, and Elizabeth May. He does occasionally answer questions from other opposition MPs.
Also on Wednesday, Ambrose was able to push Trudeau to do just that.
Alberta MP Shannon Stubbs rose to ask Trudeau about the planned closure of an Immigration, Refugees, and Citizenship Canada case processing centre in Vegreville, Alta., which will cost the small community about 280 jobs.
Arif Virani, parliamentary secretary to the immigration minister, said those at risk of losing their jobs will have the opportunity to relocate to Edmonton.
&nbsp
But Ambrose wasn't satisfied with the response. She rose from her seat and said that because "we probably won't see him again" — a jab at Trudeau's attendance record in question period — the least the prime minister could do was answer Stubbs' question.
Trudeau rose from his seat to criticize Tories for not celebrating his government's recent approval of the Kinder Morgan project, and instead saying it will "never get built."
"They're talking down the economy of Alberta and real decisions we took for political gain," he said. "That, Mr. Speaker, is why people are disgusted by the approach members opposite are taking."
Also on HuffPost
PM Trudeau Posing For Selfies