Now that Barack Obama's U.S. presidency is quickly coming to an end, the 55-year-old and his wife, Michelle, are opening up about how their time in the White House has made them better parents.
In an interview with People magazine, the First Lady revealed that her husband travelled constantly while previously serving as Illinois state senator and U.S. senator. But after Barack was elected the 44th President of the United States in 2009, the couple's move to the White House allowed them to make family a priority.
"It wasn't until the White House that we were together seven days a week, that we could have dinner together, he had time to coach the girls' teams and go to all their events," Michelle explained.
While the couple's new roles as U.S. President and First Lady came with its own set of stresses, the 52-year-old mom revealed that it was their daughters that kept them going. "You really have to fall back on the normalcy and the love of your family," she said.
The Obamas are parents to two teen daughters, Malia and Sasha. The girls were just 10 and seven years old, respectively, when their father became president.
Back in June, President Obama spoke about raising his girls in the limelight. "They've handled it so well," he told "Tonight Show" host Jimmy Fallon. "They are just wonderful girls. They're smart and funny, but most importantly, they're kind."
He then revealed his fears of moving Malia and Sasha into the White House at such a young age. "They don't have an attitude," he continued. "That was the thing me and Michelle were most worried about when we got there. But they've just turned out to be incredible kids. I could not be prouder."
Malia and Sasha aren't the only kids to grow up in the White House. Flip through the slideshow below to hear other presidents' kids open up about their time at 1600 Pennsylvania Ave.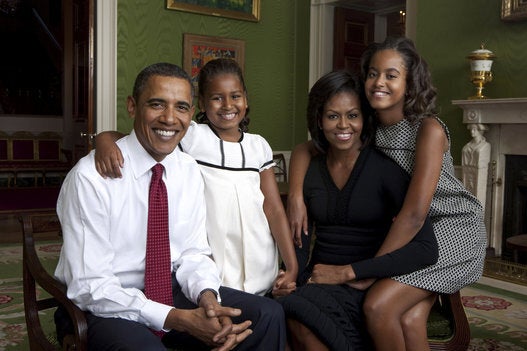 All The Kids Who Grew Up In The White House