REGINA — Researchers say they have found the 99-million-year-old tail of a theropod dinosaur preserved in amber and a Canadian is key to the discovery.
The specimen was purchased from a Myanmar amber market in 2015 by Lida Xing, a professor at the China University of Geosciences, who recognized its potential.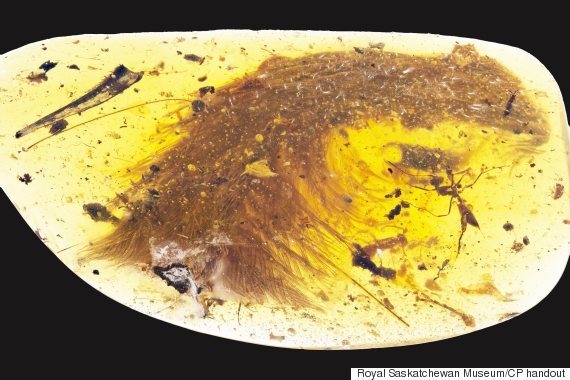 Royal Saskatchewan Museum in Regina helped identify a 99-million-year-old dinosaur tail with feathers. (Photo: Royal Saskatchewan Museum/CP handout)
Ryan McKellar, curator at the Royal Saskatchewan Museum, researched the find with his Chinese counterpart and says it's unique. This is the first time dinosaur bone material and feathers have been found preserved together in the same piece of amber.
McKellar says feathers have been linked to dinosaurs before, but not this clearly.
"We found feathers, but there's always been the underlying question of who the feathers belong to," McKellar said at the museum in Regina.
"In this case, we actually get to see how they attach to the tail and the tail itself provides us some clues as to which group of animals it came from."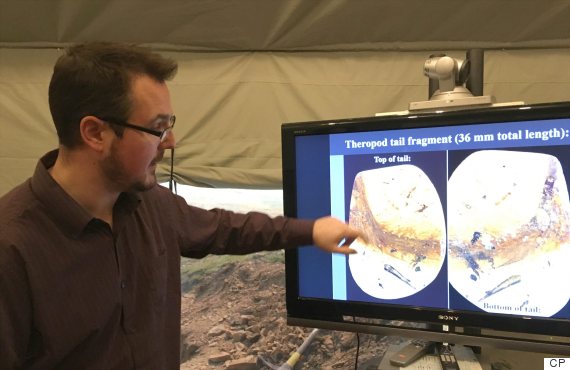 Ryan McKellar helped with the discovery. (Photo: Jennifer Graham/The Canadian Press)
McKellar says the theropod in this case was small, probably a baby or juvenile, and about the size of a sparrow.
Within the amber, visible to the naked eye, are a dense covering of feathers protruding from a tail segment which includes eight vertebrae and part of a ninth.
Chinese researchers used a specialized X-ray scan to identify soft tissue, likely muscles, ligaments, and skin, as well as trace elements of hemoglobin trapped within the tail.
McKellar used the specialized photography and microscopy setup at the museum to do most of the detailed specimen study.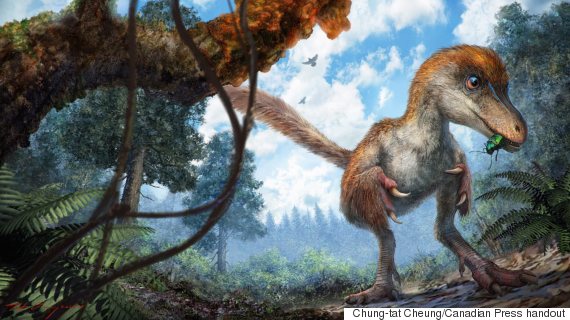 A small coelurosaur approaches a resin-coated branch on the forest floor in an artist's impression. (Photo: Chung-tat Cheung/CP handout)
"It can't be a modern bird or any of its relatives because the tail vertebrae aren't fused together to form ... a tail rod. In this case, the tail vertebrae are still flexible and it would have resulted in almost a mouse-like tail with little veins of feathers coming off of the side."
There's a thin strip of tail, about 3 1/2 centimetres long, running through the amber.
McKellar says the top surface of the tail appears dark and the underside is pale. It's sort of like a white-tailed deer, where the underside is white and the top is brown, he said. It could have potentially flipped it up for something like visual signalling, he added.
Surrounding the tail in the amber are ants, a beetle and scraps of plant material.
"It gives us a little snapshot of what's going on 99 million years ago," said McKellar.
The research is published in the journal Current Biology.
Also on HuffPost
125-Million-Year-Old Dinosaur Tracks