Too bad you weren't born 15 years earlier, first-time home buyers. You would have needed to put half as much effort into saving up for a house as you do today.
That's according to a survey from Mortgage Professionals Canada, a mortgage brokers' industry group, which found it now takes 102 weeks, on average, to save up for a 20-per-cent down payment, double what it was 15 years ago.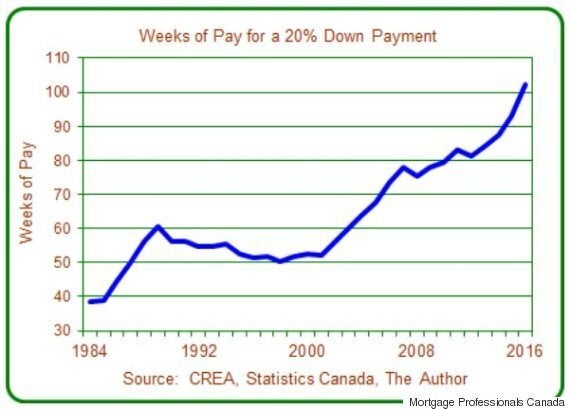 But that 102 weeks number shouldn't be taken literally. It's "a simplistic presentation, as potential first-time homebuyers do not save all of their income (obviously)," wrote Will Dunning, Mortgage Professionals' chief economist. "Moreover, most of them do not have average incomes or buy average-priced homes. In consequence, actual times required to accumulate down payments will vary."
Dunning noted that monthly mortgage payments have been stable in recent years even as house prices rose, because mortgage rates have been falling. "But the rapid rise in house prices means that required down payments have increased relative to incomes," he wrote.
Home affordability is eroding in Canada's hottest markets, reaching its worst levels in Toronto in more than 20 years, and an all-time low in Vancouver earlier this year.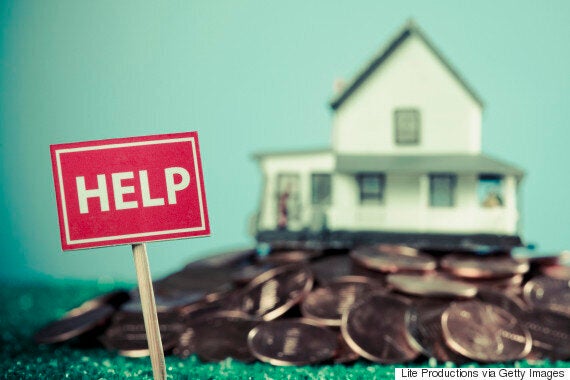 Photo: Lite Productions via Getty Images
And affordability took another hit with the federal government's new mortgage rules, enacted last month. The rules require mortgage borrowers to pass a "stress test" to ensure they can still afford payments if and when interest rates rise.
By RateSupermarket's calculations, the rules effectively mean a home-buyer would need a raise of 20 per cent or more to afford the same home as before the new rules.
Dunning says it's too early to tell just how the rules have impacted the market.
"The survey finds that among potential homebuyers who expect to be subject to that test, their ability to buy a home will be impaired. As a result, they also expect that there will be negative impacts in the overall housing market and in the broader economy," he said in a statement.
The survey also found that buyers are becoming increasingly reliant on help from parents to afford a home. Parental cash accounted for 5 per cent of the money going into down payments in 1990; since then, that share has tripled to 15 per cent, the survey found.
The fact that ever more buyers are relying on their parents to afford a home has some economists worried about the possibility of a new kind of aristocracy arising — a world where those whose parents own a home can afford to buy one of their own, and others stay renters.
A survey from the Bank of Montreal, taken earlier this year, found that two-thirds of millennials plan to borrow from family in order to afford a home.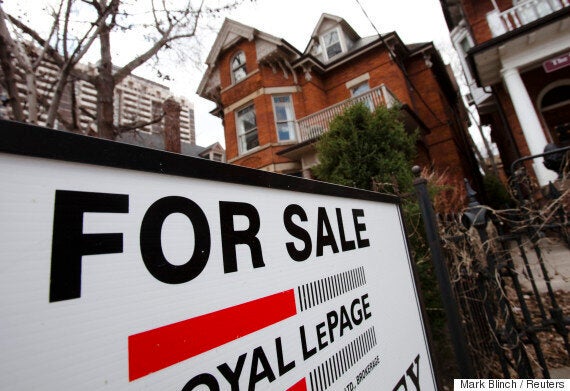 The MPC survey also found Canadians are turning a little less optimistic about the housing market going forward. On a scale of 1 to 10, Canadians rated the housing market's outlook as a 5.6 — below the long-run average of 6.08.
That may be due to evidence that Vancouver's housing market hit a slump this year, along with the new mortgage rules that have taken a bite out of affordability.
Canadians are less inclined to say that now is a good time to purchase a home. The survey asked the degree to which they agree with the statement that now is a good time to buy a home or condominium in their community. Responses were given via a 10-point scale. This report found the average response was just 5.6 out of 10, a sharp drop of 8% compared to previous years (when the average rating was 6.08).
"However, 80 per cent agree that real estate is a good long-term investment and 78 per cent would classify mortgages as 'good' debt," MPC said.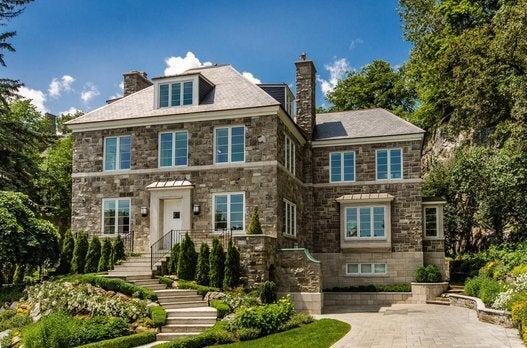 Feb. 2016: What $5 Million Will Buy You In Canada