"Gilmore Girls" fans waited a long time to hear the final four words of the series. In 2006 creator Amy Sherman-Palladino revealed she knew exactly how she was going to end the series, right down to the last four words.
But fans were left with an alternate ending when Sherman-Palladino and her husband Daniel Palladino left the show before its seventh and final season. Fortunately, the pair and the series' original cast teamed up with Netflix to give fans the finale they were originally meant to receive.
Gearing up to the four-part finale, called "Gilmore Girls: A Year in the Life," Netflix released a campaign centred around the show's final four words, and though fans were torn up over the finale the revival gave viewers a chance to reflect on an old favourite.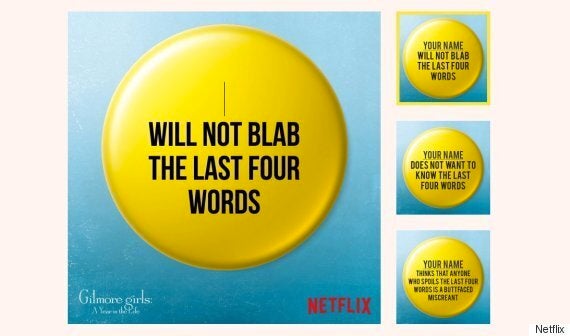 Netflix asked "Gilmore Girls" fans to take the Final Four Words challenge by creating digital buttons stating they won't spoil it for others.
But "Gilmore Girls" isn't the only show Netflix wants you to remember. The streaming site released a new video highlighting the final four words of our favourite TV shows. From "30 Rock" to "Parks And Recreation" to "House" and even "Friends," Netflix revealed the final four words of shows we love watching again and again. And conveniently, all the shows they included are currently streaming on Netflix.