With 2016 going down in history as the year of many losses, we're here to put some warm, fuzzy feelings back into your heart.
The year was clearly great in the love department: we saw epic proposals, hilarious wedding speeches and stories about couples that made us question everything about love.
Below, in no particular order, are some of our favourite viral stories that made us weep like a baby, hug a loved one or made us feel super single in the moment. Check them out and let us know, which ones were your favourite?
This Beyoncé dance that slayed
In October, Canadian singer and dancer Melissa Molinaro and her bridal party absolutely slayed a Beyoncé-themed wedding dance that had the Internet roaring. Molinaro, a former "Making the Band" contestant (so yes, she has major talent), paid tribute to Bey classics like "Upgrade U." Watch the full video above.
This groom who couldn't keep it together
This summer, a video of groom Gabriel Deku went viral after he became completely overwhelmed as his bride, Annabella, walked down the aisle. Deku, who couldn't hold back his tears, later told the Huffington Post when he met Annabella for the first time, he had given up on love. "I thought this idea of having a life partner who would love and respect me unconditionally was a story only told in movies." Read the story here.
This elaborate fake photoshoot proposal
In July, CBS producer Kornelius Bascombe came up with one of the most elaborate proposals we've ever seen. Faking a whole photoshoot with his now-fiancée Rachel Jordan, Bascombe noted the two had been dating for four years. To pull it all off, he asked a local blogger who worked on a photoshoot with Jordan in the past to recreate a "new" one. Watch the full video above.
This Sikh bride who broke norms
This fall, one Indian bride in London went viral after an image of her, her husband and mother was shared on Facebook. Hernoor Grewal and her four sisters were raised by a single mother and at traditional Sikh weddings, the father often gives away the bride. In the photo above, Grewal's mother is seen taking on this task, but also describes the struggles single Indian mothers face on the day-to-day. Read the story here.
Couple married 63 years who died minutes apart
"You don't pray for it because it seems mean, but you couldn't ask for anything more beautiful." https://t.co/CVjW4VUTlP@ksfynews

— Courtney Collen (@CourtneyCollen) August 8, 2016
It doesn't get any sweeter than this. In July, Henry and Jeanette De Lange, a couple from South Dakota, died side-by-side just 20 minutes apart. The couple, who had been together for 63 years (OMG), both were suffering from illnesses up until the day they passed away. Henry, 86, was diagnosed with prostate cancer and Jeanette checked into a nursing home for Alzheimer's disease. Read the story here.
This super happy Power Rangers couple
Cue in the super cheesy surprise proposal and matching electronic music. James and Anthony, a duo obsessed with all things "Power Rangers" and cosplay, had the sweetest proposal that went viral in November. In the video above, Anthony got down on one knee to propose to boyfriend James during one of their hilarious video adventures. Read the story from LGBTQ Nation here.
Everyone who got engaged at an Adele concert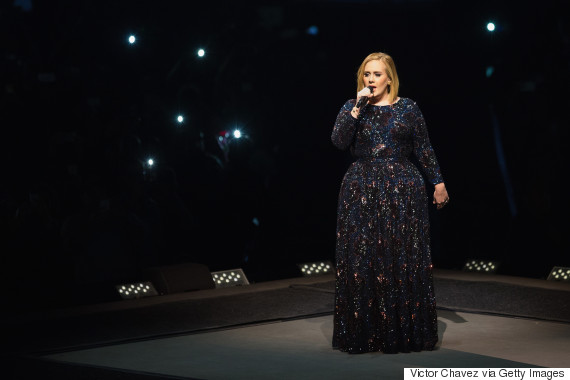 Who wouldn't fall in love at an Adele concert? It almost sounds cliché. During her tour this year, not only did the British singer rock stadiums worldwide, but several people also proposed to their significant others on stage. During her London show in March, the 27-year-old "Hello" star even stopped singing mid-way to bring one couple on stage. Read the story here.
This Rio Olympics moment of true love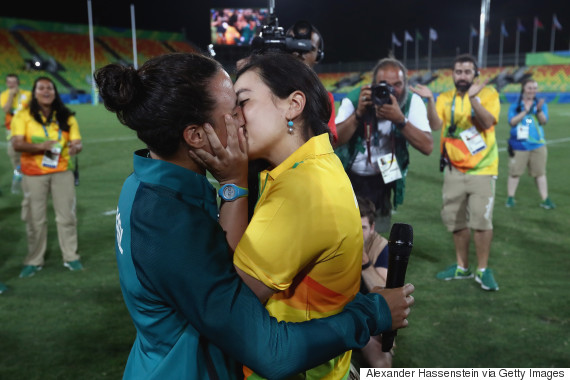 During the summer Olympics in Rio, Marjorie Enya stepped onto the pitch after her girlfriend Brazilian rugby player Isadora Cerullo's match. But little to Cerullo's knowledge, Enya was also going to propose in front of her team and volunteers. "I wanted to show people that love wins," Enya told broadcasters following the proposal. Read the story here.
This father-daughter dance nobody expected
We love a good child-parent wedding dance, but this one by Utah bride Mikayla Ellison Phillips and her dad Nathan tops our list. From hit songs like, MC Hammer's "U Can't Touch This" and 'N Sync's "Bye Bye Bye," the duo even threw in some Bollywood in there. Watch the video here.
These refugees who reunited for love
This Syrian couple's reunion shows love knows no borders (Learn more about LGBT refugees https://t.co/5DrJLl7IrT) pic.twitter.com/zo2B2kfQYT

— BuzzFeed News (@BuzzFeedNews) September 17, 2016
It's a story that will make you weep. Nader and Omar met as Syrian refugees in Turkey and got engaged before Nader got poltical asylum in Norway, Buzzfeed reports. After spending months apart, the two finally got to reunite in Norway to start a new life together. Read the story here.
These sisters and their Disney wedding speech
If you love Disney, you are going to love this. Sisters Sarah and Naomi Carter took their wedding speech for their sister Susie Kasteel to the next level by setting it to the tune of popular Disney tracks. "Growing up, music was a big part of our household. As young girls we would sing along to all the Disney classics ― we know all the words! Naomi and I were also both very into musical theatre," Sarah told The Huffington Post. Read the story here.
This woman who got the best birthday present ever
Philadelphia resident Ashley Greenhalgh and her boyfriend Danny Griffiths, both who have Down Syndrome, had been dating for two years. On Greenhalgh's 21st birthday, her boyfriend surprised her with a diamond promise ring he saved up for, and asked his girlfriend to marry him. While the gesture is sweet enough, Greenhalgh's reaction is probably the best part. Watch the video above.
The wedding shoot celebrating 63 years of marriage
To celebrate her grandparents' papaw Joe Ray and mamaw Billie Wanda's 63 years of marriage, Shalyn Nelson thought the best gift would be a photoshoot — and oh boy, she was right. In the shoot, both mamaw and papaw look absolutely adorable and more in love than ever. Read (and see the pictures) here.
This a capella group helping a fan propose
In February, Indian-American a capella group Chai Town helped a fan propose to his girlfriend in the sweetest way possible. Singing Justin Timberlake's "Mirrors," the group used actual mirrors before fan Gaurav Gadodia got down on one knee in front of then-girlfriend Madhuri Patel during Valentine's Day weekend. Watch the video here.
This boss 86-year-old bride
You are never too old to fall in love (again). Millie Taylor-Morrison made headlines this year when she decked out in a purple wedding dress for her big day. The 86-year-old grandmother married long-time friend Harold Morrison, 85, in New Jersey in October. Taylor-Morrison's first husband died in 1992. Read the story here.
This "Hamilton"-inspired wedding speech
OK, now this is pure talent. In November, Matt Rotner gave his sister a wedding speech nobody would ever forget. Inspired by "Hamilton's" hit "Alexander Hamilton," Rotner rewrote all the words to tell the story of his sister and brother-in-law falling in love. Watch the video here.