The CRTC is telling Canadians who are unhappy with their cable TV packages to "demand better" from their providers.
The regulator posted a series of tips on its website, suggesting consumers haggle with their providers or threaten to cancel their plan in order to get the best deal.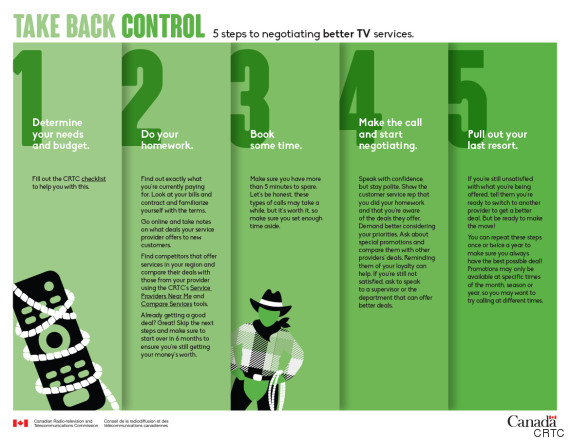 The CRTC posted tips to help customers haggle with their TV providers over the phone.
However, the advice didn't sit well with some consumers, who worry the CRTC isn't doing enough to enforce its regulations.
As of December 1, TV service providers are required to offer single channels à la carte as part of the 2015 ruling that mandated providers offer pick-and-pay options.
The ruling was intended to help please customers after the disappointing roll out of skinny basic cable packages earlier in the year, that saw the CRTC receive hundreds of complaints from dissatisfied consumers.
The pick-and-pay system was intended to offer customers cheaper options and more choice, but many of the premium channels are so costly that choosing individual channels would see consumers' bills rise.
"It's pointless, I hate calling the cable company," one unhappy customer told CBC News, adding that, "... it's not going to change that [the cable companies] don't offer what you'd want."
Skinny-tv failed, now ppl v unhappy w/ pick-and-pay. No carrot on end of stick from CRTC to make these providers take regulation seriously.

— Dylan Armitage (@dylanarm_) December 1, 2016
Shaw Cable advertises that single channels start at just $3 each, but a premium channel like HBO or Sportsnet can cost as much as $18 per month on top of a basic cable package.
And the prices are similar with the other big providers. Bell, for example, offers HBO bundled with The Movie Network for $20 a month.
Big Telecom won't sell @HBO individually. But they can.

Will @CRTCeng urge them to respect the spirit of #PickAndPay? #CRTC #cdnpoli pic.twitter.com/K5opGuNq9M

— Joshua D. Tabish (@jdtabish) December 1, 2016
"You'll get more choice and flexibility, but the price might be quite high," Public Interest Advocacy Centre executive director John Lawford told the Financial Post.
The CRTC does have one trick in its back pocket. The company chose to only renew broadcaster licences for one year, instead of the usual seven. If TV providers don't comply with the new regulations, they could see their licences revoked.
Also on HuffPost
Netflix Canada Picks for December 2016