The Alberta Council of Women's Shelters (ACWS) has created a campaign to counter the chants of "Lock Her Up" that were heard at a rally against Rachel Notley's government at the Alberta legislature last weekend.
Threats against female leaders have become a frequent problem in Alberta politics.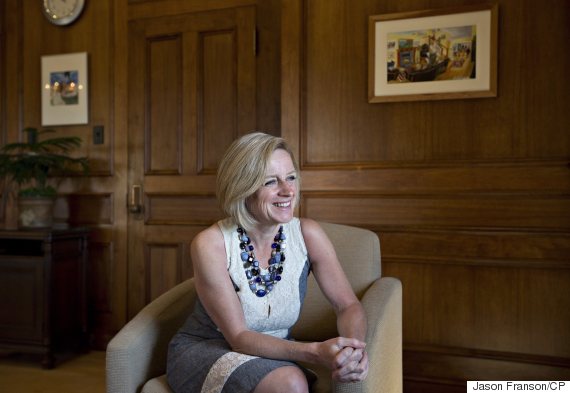 Alberta Premier Rachel Notley is pictured in Edmonton on April 20, 2016.
In August, official Opposition leader Brian Jean made a joke about beating Notley, just months after the premier's face was used as a target at a golf tournament. And NDP MLA Sandra Jansen crossed the floor from the PCs, citing abuse and harassment from others inside the party.
ACWS came up with the idea for the campaign after shelter directors voiced concerns about the impact hateful messages against female politicians were having on children in the province.
"This poor behavior is teaching our future leaders that it's OK to bully women in power ... " wrote ACWS in a release.
The organization says that normalizing sexist language can help legitimize violence against women.
Albertans took to Twitter to celebrate female politicians and leaders, and call out misogynist attacks against them:
Lift her up, not lock her up. Stand united against sexism & violent misogynistic rhetoric in our political discourse. #AbLeg #LiftHerUp

— Dave Beninger (@DaveBeninger) December 11, 2016
#liftherup because women need to support women, and men need to support women to stand up against abuse and misogyny @RachelNotley

— Erin Boppre (@erinteachELA) December 11, 2016
We cannot be bystanders to violence and threats in politics. When it comes to women in politics #LiftHerUp not #LockHerUp! #ableg #ABpoli https://t.co/10JNY3pR1Q

— Sarah Renee Dawson (@MsSarahDawson) December 9, 2016
"We cannot tolerate this hateful language — this war on women in power, anymore," said ACWS executive director Jan Reimer in a statement.
Starting next week, the non-profit will also be selling "Lift Her Up" T-shirts to support women's shelters in the province.
Also on HuffPost