STOCKHOLM — Colombian President Juan Manuel Santos accepted the Nobel Peace Prize on Saturday, saying it helped his country achieve the "impossible dream'' of ending a half-century-long civil war.
A smiling Santos received his Nobel diploma and gold medal at a ceremony in Oslo, Norway, for his efforts to end a conflict that has killed 220,000 people and displaced 8 million.
"Ladies and gentlemen, there is one less war in the world, and it is the war in Colombia,'' the 65-year-old head of state said, referring to the historic peace deal this year with leftist rebels from the Revolutionary Armed Forces of Colombia, or FARC.
Santos used his acceptance speech to celebrate the end of the longest-running conflict in the Americas, pay tribute to its victims and call for a strategy shift in another, related war — on drug trafficking worldwide.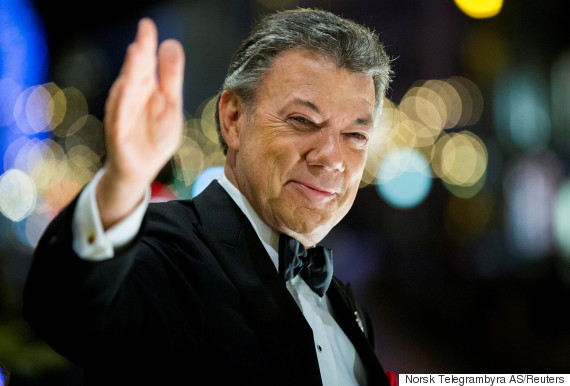 Nobel Peace Prize laureate Colombian President Juan Manuel Santos reacts to the torchlight parade from the balcony of the Grand Hotel in Oslo on Saturday.
His speech made a reference to fellow Nobel laureate Bob Dylan, this year's surprise winner of the literature award, by citing the lyrics of one of his most famous songs, "Blowin' in the Wind.''
The other Nobel Prizes were presented at a separate ceremony in Stockholm to the laureates in medicine, chemistry, physics and economics. Dylan wasn't there — he declined the invitation, citing other commitments.
Smith stumbles during performance
The crowd still gave Dylan a standing ovation after a Swedish Academy member praised his work in a speech.
An awkward moment ensued as American singer-songwriter Patti Smith, performing Dylan's "A Hard Rain's A-Gonna Fall,'' forgot the lyrics midway through.
"I apologize. I'm sorry, I'm so nervous,'' Smith said, asking the orchestra to start over, as the formally dressed audience comforted her with gentle applause.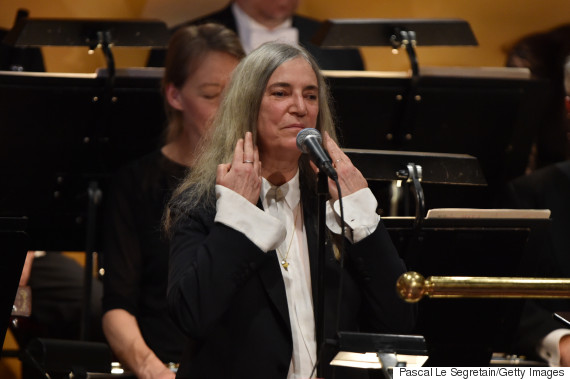 Patti Smith performs during the Nobel Prize Awards Ceremony on Saturday in Stockholm.
In a speech read by U.S. Ambassador to Sweden Azita Raji at the Nobel banquet later Saturday, Dylan alluded to the debate about whether a songwriter deserved the Nobel Prize in literature.
Dylan said when William Shakespeare was working on "Hamlet,'' he probably was thinking about which actors to pick and where he could find a skull.
"I'm sure the farthest thing from Shakespeare's mind was: 'Is this literature?''' Dylan said.
Like the Bard of Avon, Dylan said, he also deals with "mundane matters'' such as whether he's recording in the right key and not whether his songs are literature.
However, he thanked the Swedish Academy for considering that question "and, ultimately, for providing such a wonderful answer.''
__
Associated Press writer Joshua Goodman in Bogota, Colombia, contributed to this report.