Living off the grid can come with its share of unexpected challenges, but also some incredible moments. Just ask the dad who ended up face-to-face with a family of grizzlies.
Jeff Burkinshaw has been living in a northern B.C. forest with his wife and daughters since 2007.
In September, he and two of his daughters went on a scouting trip to look for deer to hunt when the ran into a grizzly and her cubs.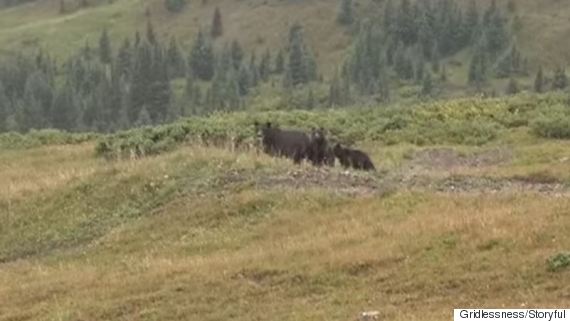 Jeff Burkinshaw and his daughters came face-to-face with a family of grizzlies this fall in B.C. (Photo: Gridlessness/Storyful)
"We were dragging ourselves through snow and sleet across an alpine meadow when we spotted her at only 20 yards (18 metres)," Burkinshaw wrote in a blog post about the encounter.
"To our collective delight, she did not immediately spot and kill us ... it was awesome!"
However, his wife was a bit less than excited to hear about the encounter.
Watch the video of the run-in, and Burkinshaw's wife's reaction above.
Follow The Huffington Post B.C. on Facebook, Twitter, and Instagram.
Also on HuffPost
B.C. Grizzly Bears By Jim Lawrence