OTTAWA — Prime Minister Justin Trudeau said the beheading of two Canadian hostages in the Philippines was his biggest regret of the year.
"If I had to pick a low point for me personally last year, it was the deaths of two Canadians by the Abu Sayyaf group in the Philippines, which was something that obviously was personally difficult for me as I had the responsibility for directing and articulating the Canadian position, but also the opportunity and the responsibility to speak with their families," he responded when asked about his biggest regret Monday by The Huffington Post Canada.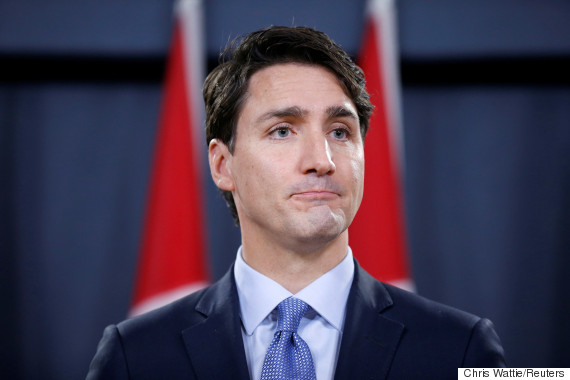 Justin Trudeau takes part in a news conference in Ottawa on Monday. (Photo: Chris Wattie/Reuters)
Canadians John Ridsdel and Robert Hall were kidnapped in September 2015 along with a Norwegian man and Hall's Filipina partner from the marina in southern Philippines by Abu Sayyaf, a violent Islamic separatist group. The group reportedly demanded ransoms of $8 million each.
Ransom deadlines passed and Ridsdel, 68, was decapitated on camera in April.
Trudeau expressed his outrage and also declared Canada would not negotiate with Abu Sayyaf or any other terrorist groups, directly or indirectly. He tried to bring onside other countries that have paid ransoms, such as Italy, Germany and France. And, while federals sources say the government tried unsuccessfully to get the hostages out of the jungle where they were being kept, the prime minister's public policy pronouncements drew condemnation from consular experts.
Gar Pardy, a former Canadian diplomat who headed the Foreign Affairs department's consular bureau, wrote in the Ottawa Citizen that he had managed, in his 11 years at the bureau, the release of more than 100 kidnapped Canadians.
"All returned safely to Canada," he wrote. "I cannot provide details, but it can be said with certainty: If a kidnapped person has been released, then a ransom of some sort has been paid. To believe that kidnappers can have a change of heart is a fairy tale. And derring-do raids by special forces are largely fiction from the imagination of Hollywood."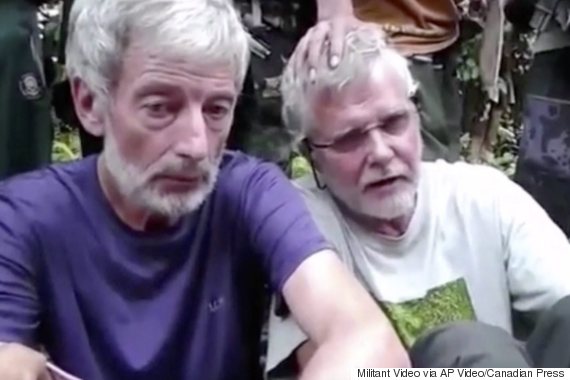 This image, made from undated militant video, shows Canadians John Ridsdel, right, and Robert Hall. (Photo: AP via The Canadian Press)
Hall, 66, was beheaded two months after Risdel's death.
"I think reflecting on the fact that live in a very dangerous world and the responsibility that any government has to keep its citizens safe now and in the future needs to be top of mind, and anytime situations come up in which we lose lives like that is going to be difficult for any leader," Trudeau said Monday at a press conference in Ottawa.
Pushed if he could have done something differently to spare the men their lives — not declaring publicly that Canada would not pay ransoms, for example — Trudeau said he thinks Canadians understand his decision.
"...the Canadians I've spoken with across the country in the months following certainly understand that any other position would not just provide source of significant funds to violent terrorists intent on causing more harm and taking more lives, but it would also endanger further the lives of any Canadian citizen who works, travels, or lives outside of our borders," he said.
Also on HuffPost
Trudeau's 1st Trip To Africa As PM