Conair, Cuisinart's parent company, announced a voluntary recall in partnership with the U.S. Consumer Product Safety Commission and Health Canada.
As of the end of November, the company had received 10 reports from Canadian consumers that the blades had cracked or broken, and two reports of mouth cuts or tooth injuries, according to Health Canada.
In the U.S., 69 people reported finding broken pieces of the blades in processed food, and 30 reported mouth or tooth injuries.
The blades affected are silver, with four rivets and a beige centre hub.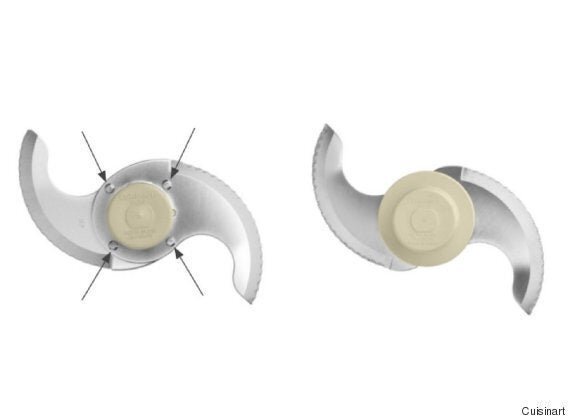 Consumers who own food processors with riveted blades and the following model numbers should immediately stop using the blades and get in touch with Conair for a replacement, according to Health Canada.
CFP-9, CFP-11, DFP-7, DFP-11, DFP-14, DLC-5, DLC-7, DLC-8, DLC-10, DLC-XP, DLC-2007, DLC-2009, DLC-2011, DLC-2014, EV-7, EV-10, EV-11, and MP-14.