WINNIPEG — A German shepherd puppy thrown into the air and allowed to slam into concrete in Manitoba is doing well and has found a forever home.
Dr. Corey Bartley of Dakota Veterinary Hospital in Winnipeg says Asha came in last week to be spayed.
Bartley says Asha is doing fantastic and is now 36 kilograms of pure friendliness.
The vet says Asha has no long-term injuries after being abused in July.
Jesse Young, who is 19, was sentenced to two months in jail for animal cruelty.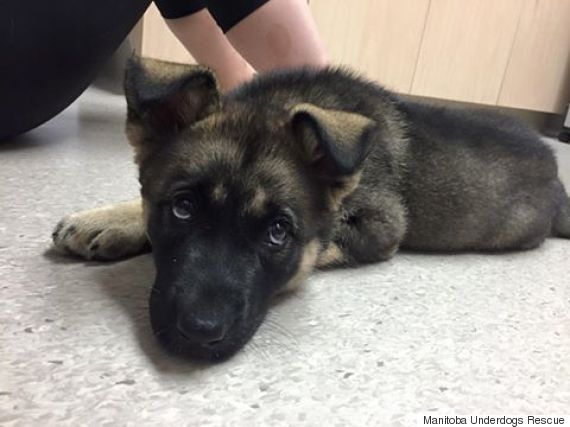 Asha, a German shepherd puppy, is recovering well after being thrown into the air and falling onto concrete in Manitoba in July.
A video of Young tossing nine-week-old Asha into the air in Easterville on July 26 was posted on Facebook.
Young was also sentenced to three months in jail for injuring an animal in February.
The foster family that took Asha after she was injured has decided to keep her for good, says Bartley.
"She's doing fantastic, growing like crazy."
"It's amazing because she has complete trust in people,'' Bartley said Tuesday. "She's friendly and is comfortable being around people and just wants to be petted.''
When the puppy was brought into hospital, she couldn't walk. Bartley said it may have been because of the pain she was in. There were no bones broken, but a lot of soft tissue injuries, bruising and muscle sprain and strain.
"She's doing fantastic, growing like crazy ... and seems to be suffering zero ill effects from her earlier mistreatment.''
Also on HuffPost
10 Worst States For Animal Abuse Laws