TORONTO — Swimmer Penny Oleksiak is the winner of the Lou Marsh Trophy as Canada's athlete of the year.
The Toronto Star award is selected annually by a panel of sports journalists from across the country.
Oleksiak won four medals at the Rio Olympics last summer, including gold in the 100-metre freestyle.
She added four more medals at the short-course world championship this month in Windsor.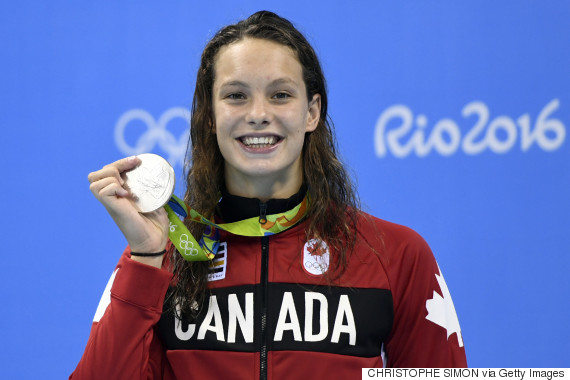 Canada's Penny Oleksiak celebrates on the podium after she won silver in 100 metre butterfly during the swimming event at the Rio 2016 Olympic Games at the Olympic Aquatics Stadium in Rio de Janeiro on Aug. 7, 2016.
The 16-year-old Toronto swimmer edged Pittsburgh Penguins star Sidney Crosby for the honour.
Other finalists were sprinter Andre De Grasse, golfer Brooke Henderson, Paralympic swimmer Aurelie Rivard, tennis player Milos Raonic and high jumper Derek Drouin.
The Lou Marsh Trophy is named after a former Toronto Star sports editor.
Also on HuffPost
Mesmerizing Photos From Rio Olympics 2016