A day after admitting to being lobbied at private Liberal fundraisers, Prime Minister Justin Trudeau repeatedly told his rivals that the only thing he talks about at such events are ways to help the middle class.
Unfortunately for the prime minister, opposition parties aren't buying it.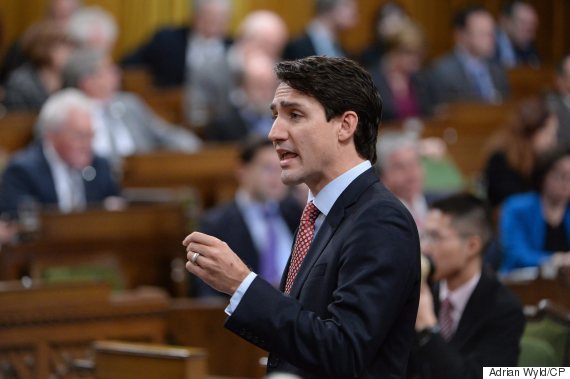 Prime Minister Justin Trudeau speaks in the House of Commons on Dec.13, 2016. (Photo: Adrian Wyld/CP)
Trudeau faced a barrage of questions from interim Conservative Leader Rona Ambrose and NDP Leader Thomas Mulcair over his admission that government business does surface at events where donors pay up to $1,500 to rub shoulders with him.
The prime minister told reporters Monday that while he listens "broadly" to donors, he doesn't grant them special influence and makes decisions on what is best for Canadians.
Ambrose kicked off question period Tuesday by accusing Trudeau of "bragging" about being the target of "illegal lobbying activities" that are beneath the dignity of his office.
Trudeau responded that Canadians can be assured that wherever he goes, he's talking about making things better for the middle class. Namely, how his government raised taxes on the wealthiest Canadians to lower them for middle-income earners and how Liberals stopped sending child benefit cheques to richer families so that they could give more to those earning less.
'What happened?'
Ambrose sparked some chuckles by saying it appeared Trudeau had "changed his talking points about following the rules."
For weeks, Trudeau and Government House Leader Bardish Chagger have tried to deflect questions about so-called cash-for-access events by pointing out that they don't run afoul of fundraising laws.
Ambrose charged that the prime minister's own ethics guidelines have become a joke.
"What happened? When did money become more important than the integrity of his office?" she asked.
"Canadians know that I say the same thing in any given context," Trudeau replied, sparking some jeers.
"Canadians know that I say the same thing in any given context."
— Prime Minister Justin Trudeau
Again, the prime minister said he's "always talking" about his government's middle class priorities, including raising taxes on the wealthiest "one percent" and beefing up child benefits for middle class families.
Trudeau gave much the same answer, moments later, when Ambrose asked if he understood why the fundraisers needed to stop.
"Canadians now think the prime minister can be bought and he's already done enough damage to his office," Ambrose said. "So, when is he going to stop this cash for access fundraising? Today?"
"Canadians well know that we raised taxes on the wealthiest one percent so we could lower them for the middle class," Trudeau responded, accusing Tories voted against that effort to "protect their friends."
"'Just watch me' has become 'just trust me'"
Things didn't get any easier when Mulcair stepped up.
The NDP leader pointed out how Fisheries Minister Dominic LeBlanc had earlier told the House of Commons that government business was not discussed at such events — a remark that Trudeau contradicted this week.
The prime minister again defaulted to his talking point about raising taxes on the rich and stripping their child benefits.
"Those are our priorities and we talk about them in every given context," Trudeau said.
"It seems that 'just watch me' has become 'just trust me,' and on this, Canadians just don't," Mulcair shot back, referencing the famous words of the prime minister's father.
"The problem with saying that he listens but isn't influenced is that it reminds people of someone who said that he smoked pot and didn't inhale."
— NDP Leader Thomas Mulcair
Mulcair even compared Trudeau's responses to another famous politician — Bill Clinton.
"The problem with saying that he listens but isn't influenced is that it reminds people of someone who said that he smoked pot and didn't inhale," Mulcair said. "Nobody believes it."
Also on HuffPost
PM Trudeau Posing For Selfies