While the adorable mother-son photo garnered over 272,000 likes, it also sparked a number of negative comments.
"You should not kiss your son like that," one user said. "There's other ways to show love but not that one. It's confusing for him, it's not healthy."
Another added: "A kiss is a kiss. It looks like she's making out with that little boy. Weird."
However, many of Duff's fans quickly fired back at the haters as well and left the "Younger" star messages of support.
"Every family is different," said one user. "Some greet with a hug, others a kiss on the cheek, or others a kiss on the lips. It's just about how they were raised and what they feel comfortable with. Every family is different and that's okay."
"I am a mom to a son and it looks like your (sic) doing a fabulous job!!" another commented. "Enjoy every moment they grow so fast!!"
Duff isn't the only celebrity to be criticized for kissing her child on the lips. Earlier this year, Victoria Beckham received backlash for posting a photo of her kissing her five-year-old daughter Harper.
While some disagree with parents kissing their kids on the lips, Dr. Nadine Thornhill, a Toronto sexuality educator, says there's nothing wrong with this.
"As long as it's consensual and non-sexual, there's no problem with kissing on the lips," she says. "For many parents or caregivers and their children, lip-kissing is simply a gesture of love, care and closeness."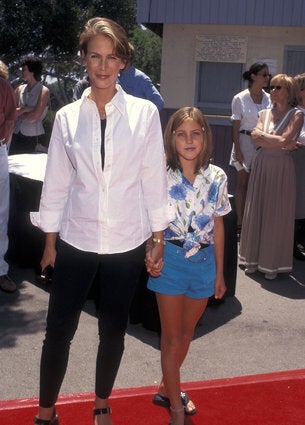 Celeb Kids We Didn't Recognize In 2016