Remember the terrific folks at the Taiwanese animation studio that brought us the bizarre summary of the 2015 federal election?
You know, the one where former prime minister Stephen Harper gets hit with a puck while riding a moose in a hockey rink?
Well, they're back, and they've somehow managed to out-WTF themselves.
The latest animated clip from Tomo News attempts to, uh, explore the controversy over Prime Minister Justin Trudeau's so-called "cash-for-access" fundraisers.
You can watch the madness in the video embedded above.
The NSFW video, uploaded to YouTube Tuesday, focuses on an event Trudeau attended in May at the Toronto residence of Chinese-Canadian businessman Benson Wong.
Everything sounds pretty "normal" so far, right?
NOPE:
Behold this terrorizing image. Let it devour your soul. (Photo: Taiwanese Animators/YouTube)
The clip includes a scantily-clad Trudeau pouring soy sauce over his body while he gets showered with cash from a panda. To criticize the prime minister's relations with China, said panda is later shown brutally murdering a monk while Trudeau walks away.
Near the end, because nothing in life matters, Trudeau is shown in a bikini singing next to two Mounties with Liberal party logos for heads.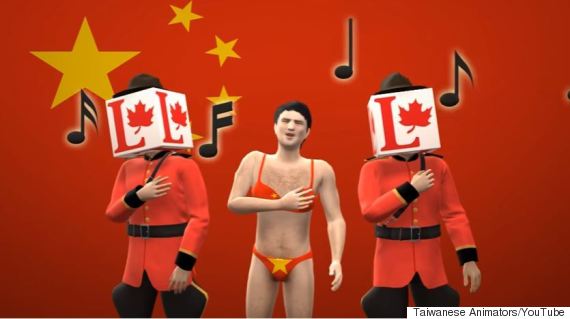 If this is what the Liberal government meant by "Canada is back," then please throw us into a black hole, sealed forever from time and space. (Photo: Taiwanese Animators/YouTube)
Meanwhile, on this plane of reality, Trudeau has been under heavy flak from opposition parties over his involvement in the fundraisers. Criticism grew louder after the PM admitted government business was brought up at the events.
On Tuesday, interim Conservative Leader Rona Ambrose accused Trudeau of "bragging" about being the target of "illegal lobbying activities" that are beneath the dignity of his office.
The prime minister defended his involvement, saying he discusses helping the middle class at these events.
With files from Ryan Maloney
Also on HuffPost