MOSCOW — Russian officials say that at least 41 people in a Siberian city have died of alcohol poisoning after drinking a scented bath oil.
Tatiana Lebedeva of the local health department said Monday the victims had died of methanol poisoning after consuming the bath lotion containing alcohol in Irkutsk, Russia's sixth-largest city with a population of 1.1 million
Officials said the bottles with the lotion were clearly marked with warnings that they weren't for internal use. Russia's top investigative agency has opened a probe into the incident.
Poisonings with surrogate alcohol, such as window cleaner or perfume, are a regular occurrence in Russia, but the Irkutsk case was one of the deadliest such incident in years.
Expert estimates say up to 12 million Russians regularly ingest surrogate alcohol, according to the Guardian.
Poverty, corruption the root causes: Kremlin critic
Kremlin critic Alexei Navalny, who wants to challenge President Vladimir Putin in Russia's 2018 elections, said alcohol poisoning from surrogate sources is a worse problem than terrorism, citing poverty and corruption as the root causes.
"The problem .... for Russia and its national security is roughly a thousand times more important than Syria, Aleppo, Ukraine and Trump put together," Navalny said.
Two years of economic pain in Russia have pushed more people below the poverty line, according to Reuters.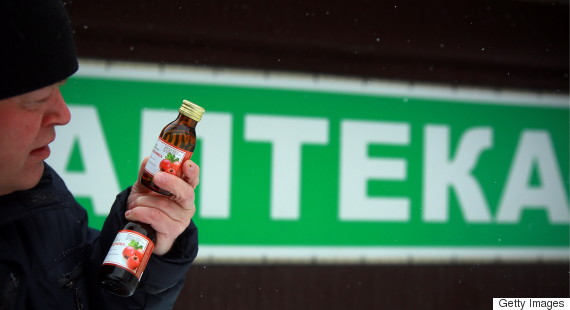 A man holds bottles of Hawthorn infusion near a drug store. (Photo: TASS via Getty Images)
According to the Guardian, the liquid ingested in Irkutsk was counterfeit Boyaryshnik, which is sold as a relaxant to add to bathwater but is also widely known as a cheap alcohol substitute.
The liquid costs a maximum of 40 roubles or about 87 cents, which makes it cheaper than the cheapest vodka.
Boyaryshnik typically contains hawthorn extract, lemon oil, and ethanol, but testing on the bottles in Irkutsk said the counterfeit bottles also contained methanol, an ingredient in antifreeze.