Filipino fast-food giant Jollibee has finally opened its doors in Canada.
Three years after announcing plans to set up shop in Toronto, the popular chicken and spaghetti joint served 1,300 diners in Winnipeg last Thursday.
Customers waited in freezing cold temperatures for as long as eight hours to be first in line.
Filipino-Canadian Jason Ladera and his son Wilfred were the first customers to be served braving the -25 C weather.
When asked why it was so important for him to be first in line, Jason simply told employees, "I miss home. I miss Jollibee."
It was a sentiment shared by many fans of the restaurant who shared fond memories of eating Jollibee in the Philippines.
Jollibee Canada's initial plans to open in Toronto were put on hold after the company struggled to find the right location.
The Winnipeg location, situated at 1406 Ellice Ave., seemed to be the perfect opening spot. Manitoba has one of the largest Filipino communities in Canada and Jollibee fans from neighbouring Saskatchewan also showed their excitement by driving six hours to the restaurant.
To help control crowds, the company issued tickets to customers with a time stamp for when they should line up. For some customers, this meant lining up as early as 5:41 a.m. to get a ticket inviting them to line up for food at 7 p.m.
Despite the long wait, many fans still said the food is worth it.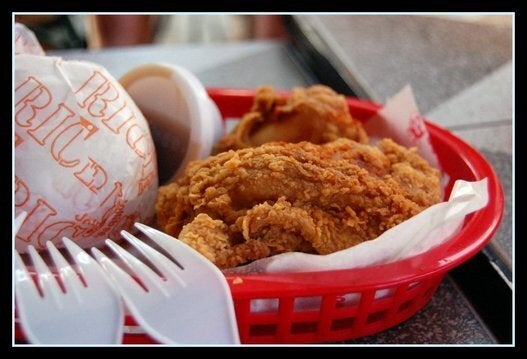 What To Order At Jollibee