Who knew that crowd control and anti-terrorism measures could be a marketing opportunity for a luxury lifestyle brand?
The New York Police Department and Tiffany & Co., that's who.
In what amounts to just the latest sign that the U.S. has finally managed to outdo or at least match the dystopian predictions made about it, the NYPD has agreed to the retailer's plan to set up barricades at its location next to Manhattan's Trump Tower that are to be branded with the Tiffany's logo and light-blue motif.
According to fashion news site WWD, Tiffany's and other retailers in the area — including Gucci, Armani and Ralph Lauren — have reported a steep drop in foot traffic since Donald Trump was elected and security was ramped up in the area.
Tiffany's barricade runs from 57th Street around the corner to Fifth Avenue, where waiting customers are ushered past the store's window display.
Tiffany's earlier cancelled its annual "Holiday Window Spectacular" because of all the security around the Trump Tower.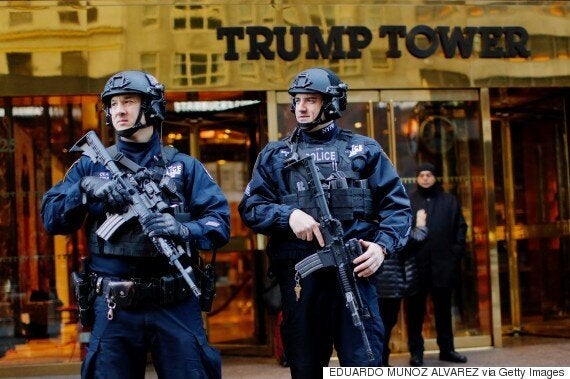 The company warned in its latest earnings report that it "cannot provide any assurance" that sales at its flagship store won't decline, or stay down, as a result of high security around the Trump Tower, WWD reported.
Trump reportedly wants to continue living in the Trump Tower while president, returning from Washington to Manhattan on weekends. The Secret Service apparently considers this to be a "security nightmare."
Maybe the NYPD just wants to make sure the city's wealthy can be caught in crowd-control measures in comfort.
One has to wonder what's next. Will we see the Secret Service wearing Gucci earbuds? Or get a traffic ticket from a KFC highway patrol officer?
In Donald Trump's America, we can't rule anything out.