If you're a working Canadian, this holiday season — as you rush to finalize travel plans and buy gifts — the odds are better than even that you'll pay a self-imposed "time-off tax."
That's what human resources firm ADP is calling the phenomenon of employees who put in extra time at work before or after a vacation.
According to ADP's latest sentiment survey, some three-quarters of Canadians feel they have to work extra hours before and after vacations, with nearly half (44 per cent) saying it's "very likely" they will have to put in extra time around holidays.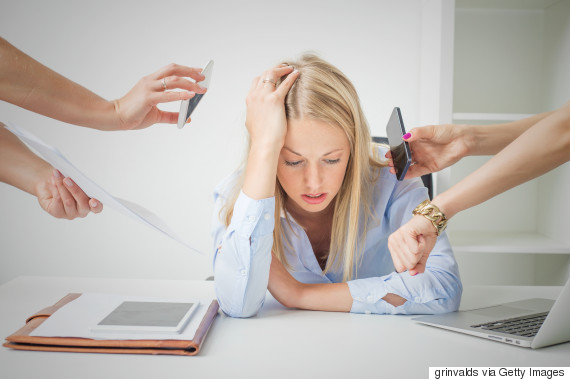 Three-quarters of Canadians feel the need to work extra hours before and after vacation, according to a survey from ADP Canada. (Photo: Grinvalds via Getty Images)
Those who do so average an extra 10 hours of work before vacation, and 11 hours after vacation, for a total of 21 hours, or half a full-time work week.
In other words, if you take a week off, you've only really gotten half a week off.
People on the Prairies are the most likely to pay a "time-off tax," with 90 per cent in Manitoba and Saskatchewan saying they work extra around vacations.
At the other end is Quebec, where little more than half (53 per cent) say they feel the need to add work hours.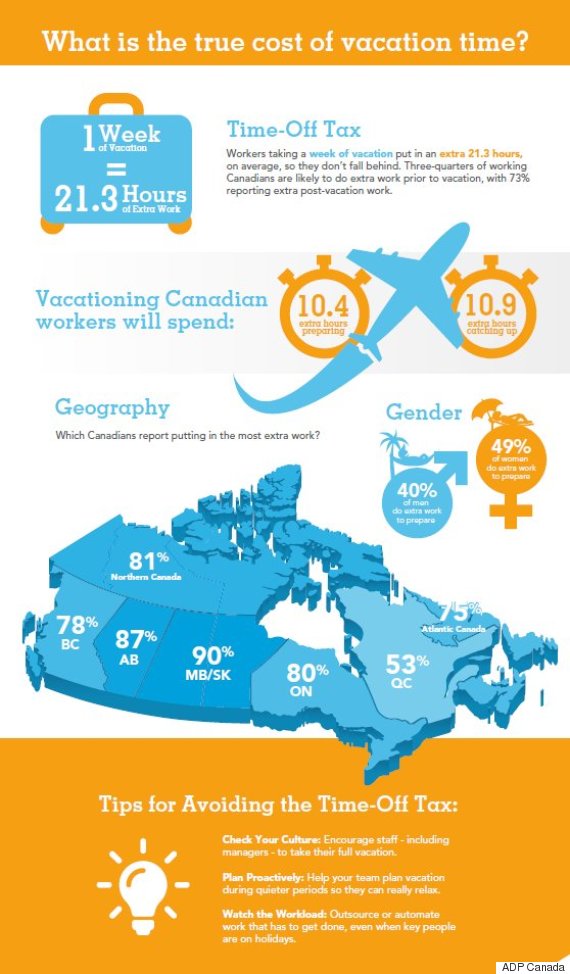 Infographic: ADP Canada
ADP says the pressure to stay caught up at work is causing people to forgo vacation time. It estimates that this year, Canadians will leave 31 million allocated vacation days unused.
Extra work is "a good explanation for why many Canadians may be reluctant to take a vacation, and may not feel completely rested when they do," ADP Canada's VP for strategy and marketing, Virginia Brailey, said in a statement.
"While holidays are important for physical and mental health, our study shows that for many Canadians, the extra work required to take that vacation has become a bit like a time-off tax."
Bailey suggests businesses themselves address these issues. She says companies should "check their culture" to make sure they are not creating an environment where overwork is encouraged.
Business should also "plan proactively" to make sure productivity doesn't suffer when employees go on vacation, Bailey suggests.
"The health and business benefits of well-rested employees are too important to ignore," says Brailey. "This is a perfect time of year for managers to step back and make sure their employees aren't feeling pressured to pay a time-off tax."
Also on HuffPost
Highest-Paying Jobs For People Who Hate Math