A YouTuber is claiming he was kicked off a Delta Airlines flight for speaking Arabic on the phone with his mother.
Adam Saleh shared a video of the alleged incident on the flight from London to New York on Twitter Wednesday.
We got kicked out of a @Delta airplane because I spoke Arabic to my mom on the phone and with my friend slim... WTFFFFFFFF please spread pic.twitter.com/P5dQCE0qos

— Adam Saleh (@omgAdamSaleh) December 21, 2016
The clip shows some passengers in the background waving to the camera as Saleh explains the situation.
"This is 2016. I cannot believe my eyes," Saleh says. "I spoke a word and you said you feel uncomfortable." He asked the airline to explain its actions.
On Twitter, Delta confirmed employees removed two passengers from the flight after more than "20 customers" expressed discomfort due to a "disturbance in the cabin."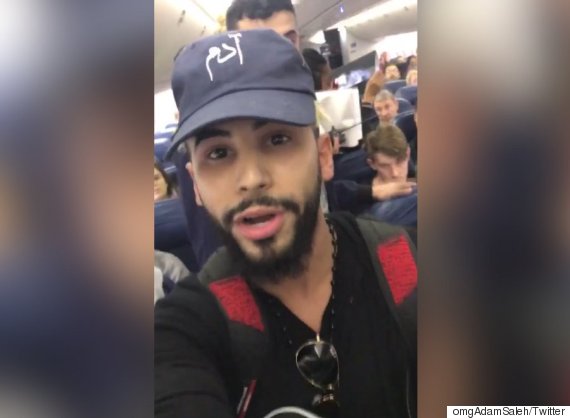 YouTuber Adam Saleh shared a video on Twitter alleging Delta Airlines kicked him off a flight for speaking Arabic. (Photo: omgAdamSaleh/Twitter)
Saleh's claim has led to outrage against Delta, with many Twitter users as well as fans of the YouTuber calling for a boycott of the airline.
But there is also skepticism over Saleh's story.
The 23-year-old has staged pranks involving airlines in the past, including a recent one that saw him being "smuggled" in a suitcase.
if u kick them off the plane for saying "Allah", kick off whites every time they mention God cause its literally the same word #boycottdelta

— luisa (@rowoones) December 21, 2016
@omgAdamSaleh @AAhronheim @Delta Maybe some context be nice? How do we know this legit? Video doesn't show the 'before'.

— Arsen Ostrovsky (@Ostrov_A) December 21, 2016
Saleh's manager however told BuzzFeed News this was "as real as it gets."
Delta is investigating the incident.
Also on HuffPost
World's Worst Airlines for Customer Service