Prime Minister Justin Trudeau claims his government has "fundamentally changed" Canada's attitudes toward consular cases, despite pressure over its work to secure the return of four British Columbia children abducted to Iran.
Trudeau sat down Tuesday with the editorial boards of the Vancouver Sun and The Province where he was questioned about the case of Alison Azer, a B.C. mother who hasn't seen her children in more than 17 months.
Azer, whose ex-husband Saren Mahmudi-Azer took their four kids overseas, has publicly criticized Trudeau's government for not doing enough to bring them home. He was asked if he feels he failed Azer.
"We know that consular cases are often very, very difficult," the prime minister said, trying a reference to travels he did to some "pretty sketchy places" before his foray into politics.
"One of the things that I personally take a certain amount of pleasure in is knowing we have fundamentally changed the attitude of the government of Canada towards consular cases."
As a travelling Canadian, knowing he had a government ready to help with any challenges he may encounter abroad was "really important" to him, he said.
"When Canada elected a former backpacker as prime minister, they got someone who is very interested at the highest level in a broad range of consular cases."
The prime minister circled back, saying he gets regular updates on active consular cases including check ins about Azer's situation involving her children. He cited the risk of "counterproductive responses" as a reason why he doesn't publicize sensitive consular case developments.
"I'm not willing to beat my chest and look strong on the world stage, look like I'm doing something, if it's actually going to hinder our capacity to do what I want to do, which is get people home, get people to safety."
He said the government remains steadfast in its resolve to bring the Azer children home.
Mom felt 'disrespected and dishonoured'
Azer visited the House of Commons in July when Foreign Affairs Minister Stephane Dion made a thumbs-down gesture during a Conservative MP's question related to her case.
The B.C. mom, who was sitting in the public gallery at the time, said she felt "disrespected and dishonoured." Dion later read a statement of contrition, saying he was reacting to attempts to politicize the situation to maim the Liberal government.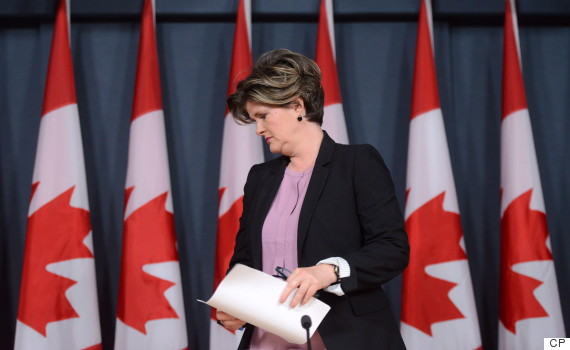 Alison Azer holds a press conference at the National Press Theatre in Ottawa on July 5. (Photo: Sean Kilpatrick/The Canadian Press)
He added his thumbs-down gesture wasn't meant as a slight on Azer.
"I am disappointed in how the opposition is politicizing this heartbreaking situation," Dion said.
A 'pawn between two countries'
Mohamed Fahmy, the Egyptian-Canadian who spent more than a year in a Cairo prison, wants to see the Liberal government change the country's consular laws to protect citizens imprisoned or detained abroad.
The former Al-Jazeera journalist told the Hill Times in November one of the biggest psychological challenges was knowing he was an innocent man being made a "pawn between two countries."
According to figures from the foreign affairs department, 1,590 Canadians are detained in prisons across 86 countries as of October. Sixty-nine per cent are imprisoned in the United States.
In September, Canadian Kevin Garrett was released from a Chinese prison two years after being arrested. Iranian-Canadian professor Homa Hoodfar was also freed after spending four months in a Tehran prison. She was charged with "dabbling in feminism."
Two Canadians, John Ridsdel and Robert Hall, were executed in the Philippines this year after being kidnapped by terrorist group Abu Sayyaf last September.
Trudeau reaffirmed the government's no-ransom policy for hostage situations after both Ridsdel and Hall's deaths. Abu Sayyaf had demanded over $8 million for each of the men.
Earlier this year, the Liberal government signaled its intention to explore legislation that will ensure all Canadians detained or kidnapped abroad get equal treatment by consular officials.
With files from Ryan Maloney and Althia Raj
Also on HuffPost
14 Ways To Stay Safe While Traveling Abroad