LOS ANGELES — Carrie Fisher, beloved by legions of fans for nearly 40 years since she first walked the corridors of a "Star Wars" spacecraft as Princess Leia Organa, is being treated in an intensive care unit after a serious medical emergency on a flight, according to her brother.
Todd Fisher told The Associated Press on Friday night that his sister was receiving excellent care, but said that he could not classify her condition. He had earlier told the AP that she had been stabilized and was out of the emergency room.
In a subsequent interview he said many details about her condition or what caused the medical emergency are unknown, and much of what had been reported was speculation.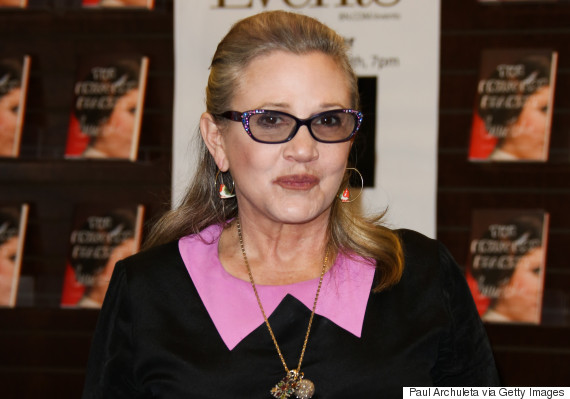 Carrie Fisher signs copies of her new book 'The Princess Diarist' in California in November. (Photo: Paul Archuleta/FilmMagic via Getty)
"We have to wait and be patient," he said. "We have so little information ourselves."
Carrie Fisher, 60, experienced medical trouble during a flight from London and was treated by paramedics immediately after the plane landed in Los Angeles, according to reports citing unnamed sources.
Celebrity website TMZ, which first reported the incident, said anonymous sources told them the actress suffered a heart attack.
According to TMZ, the incident took place about 15 minutes prior to landing, and a medic aboard the flight performed CPR on Fisher. She was unresponsive when the flight landed.
A United Airlines statement confirmed the flight was met with paramedics when it arrived, but did not identify Fisher as the passenger in need of medical care.
Passengers on the flight tweeted about the experience.
Don't know how else to process this but Carrie Fisher stopped breathing on the flight home. Hope she's gonna be OK 😞

— Anna Akana (@AnnaAkana) December 23, 2016
I'm in complete shock. @AnnaAkana and I sat in front of Carrie Fisher on our flight from London and she was just taken off the plane by EMTs

— Brad Gage (@bradgage) December 23, 2016
Fisher's publicists and representatives for her mother, Debbie Reynolds, and her daughter, Billie Lourd, did not immediately return calls from the AP.
Los Angeles Fire Department spokesman Erik Scott said paramedics administered advanced life-saving care to a patient at Los Angeles International Airport on Friday and transported the person to a nearby hospital. He did not identify the patient.
A large gathering of reporters was camped outside Ronald Reagan UCLA Medical Center in Los Angeles hospital, where TMZ and the Los Angeles Times reported she had been taken.
Fisher is considered by many to be a member of Hollywood royalty — her parents are Reynolds and the late singer Eddie Fisher.
Catapulted to stardom when the original "Star Wars" was released in 1977, Fisher reprised the role as the leader of a galactic rebellion in three sequels, including last year's "Star Wars: The Force Awakens."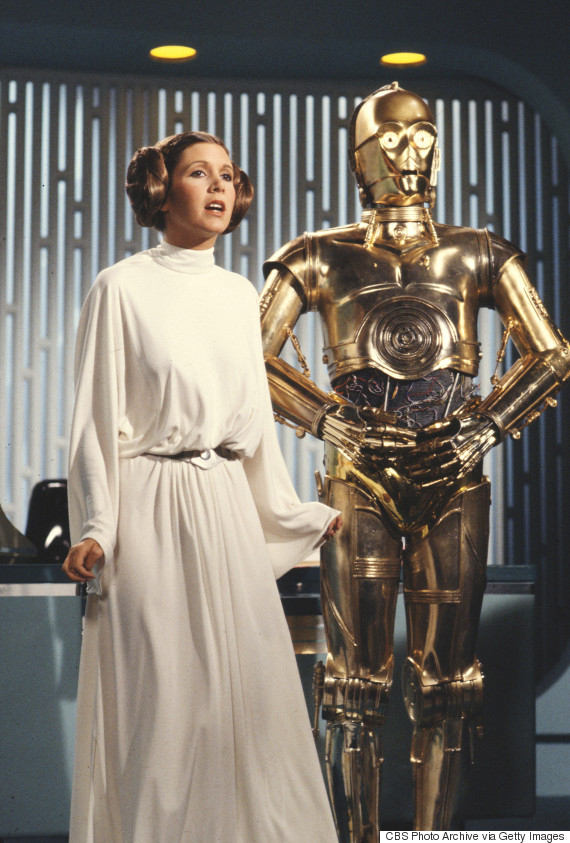 Carrie Fisher as Princess Leia and Anthony Daniels as C-3PO in August 23, 1978. (Photo: CBS via Getty Images)
The author and actress may be best known for her portrayal of Leia, but she is also an accomplished writer known for no-holds-barred accounts of her struggles with addiction and mental illness.
Her thinly veiled autobiography "Postcards from the Edge" was adapted into a 1987 film version starring Shirley MacLaine and Meryl Streep. She also transformed her one-woman show "Wishful Drinking," which played on Broadway and was filmed for HBO, into a book.
Most recently, Fisher has been promoting her latest book, "The Princess Diarist," in which she reveals that she and co-star Harrison Ford had an affair on the set of "Star Wars."
With files from Maham Abedi
Also on HuffPost
Carrie Fisher: Through The Years