TORONTO — Prime Minister Justin Trudeau, Canadian actors Dan Aykroyd and William Shatner are some of the scores for people paying tribute to the late Carrie Fisher, best known for her role as Princess Leia in "Star Wars."
Trudeau — who is known to be a big fan of "Star Wars" — honoured the iconic American actor by tweeting: "We'll never forget you, Carrie. May the Force be with you always."
We'll never forget you, Carrie. May the Force be with you always.

— Justin Trudeau (@JustinTrudeau) December 27, 2016
For the last two years, Trudeau has invited patients from the Children's Hospital of Eastern Ontario in Ottawa to join him for advance private screenings of "The Force Awakens" and "Rogue One."
He was also photographed with his family on Halloween in 2015 dressed as Han Solo while his wife, Sophie Gregoire Trudeau, was Princess Leia.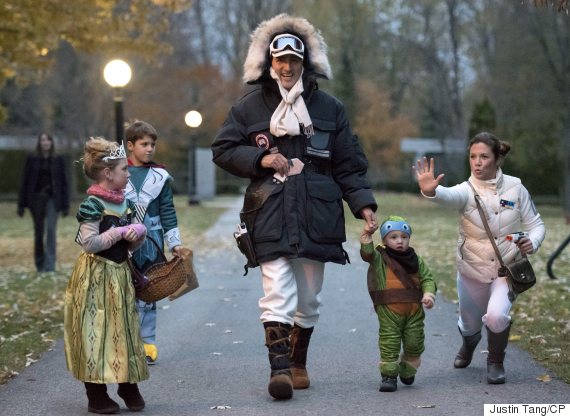 Justin Trudeau and his family on Halloween in 2015. (Photo: The Canadian Press)
Fisher died Tuesday at age 60, four days after falling ill aboard a flight to Los Angeles from London. Media reports say the actor had suffered a heart attack.
Aykroyd, who was briefly engaged to Fisher in 1980, called her his "beautiful, brilliant, funny, wise, kind and generous Blues Sister'' on Twitter.
"So ironic. Xmas was Carrie's favorite thing next to babies," the Canadian actor said of his "Blues Brothers" co-star.
Shatner, best known for his role as Captain Kirk in "Star Trek," also took to Twitter to express his condolences.
"She was kind, thoughtful and brave."
"I'm deeply saddened to learn of the death of Carrie Fisher. I will miss our banterings. A wonderful talent & light has been extinguished," he tweeted.
In a statement Tuesday, David Mirvish — who operates four theatre houses in Toronto — says he remembers Fisher as someone who "gave hope to others who lived in challenging circumstances. She was kind, thoughtful and brave."
In the summer of 2011, she performed her acclaimed show "Wishful Drinking" at Toronto's Royal Alexandra Theatre. The play was based on her memoir of the same name, which shared her insights into the entertainment business and celebrity culture.
Mirvish says Fisher was "very generous in sharing her emotions and personal story."
To honour the actor, the Mirvish theatres will dim their marquee lights at 8 p.m. Wednesday.
Also on HuffPost
Carrie Fisher Vintage Pictures