An Edmonton man tried to make off with a stolen ATM Friday — but was foiled when his getaway vehicle would only hit a top speed of about 20 km/h.
According to police, a man used a front-end loader to smash in the entire storefront of a Cashco Loans pawn shop in north Edmonton last Friday. He then used chains to pull the ATM out of the store, and drove off with the cash machine laying in the bucket of the heavy-equipment vehicle.
However, loaders aren't really known for their speed and when a passing officer spotted the yellow piece of machinery driving down the road "a slow speed chase ensued" for about 10 blocks, reports CBC Edmonton.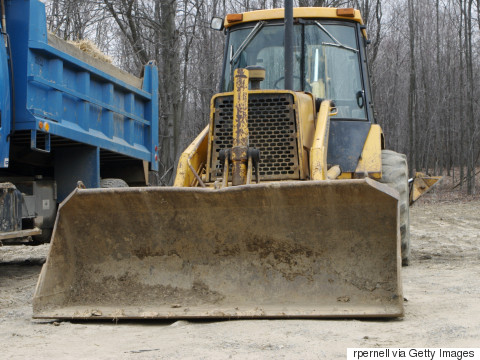 A front-end loader. Not the one used in the crime. (Photo: Getty Images)

To top it all off, the loader was also identified as a stolen vehicle, according to Postmedia.
Christopher Hoffele, 29, was charged with break and enter, possession of stolen property over $5,000 and possession of break-in instruments.
Clean up is underway now at the NE #yeg location. A single glass panel is all that is left of the store front. pic.twitter.com/YDYjixla3x

— Paige Parsons (@paigeeparsons) December 30, 2016
Cashco Financial regional manager Jacquie McBurney told Postmedia a similar theft occured Thursday at a different Edmonton location, but instead of a loader the robber used a skid steer to make off with a machine.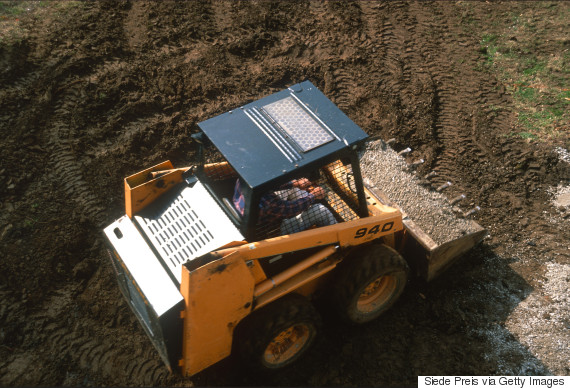 A skid steer in action, doing the job it's normally meant to do and not stealing an ATM. (Photo: Gettystock)
Using heavy equipment to commit ATM theft has become somewhat of a trend in Alberta this year.
In September, a brazen thief used an excavator to tear a large hole in the side of an Edmonton store and made off with an ATM, reported Global News.
More wreckage from overnight #backhoe smash and grab of ATM at Sherbrooke Grocery #yeg. @GlobalEdmonton pic.twitter.com/hjCtPenuqS

— DaveCarels (@DaveCarels) September 27, 2016
Back on March 14, a stolen tractor was used to smash through the front of the Servus Credit Union in Lamont, Alta.
And in May, a wheel loader was used to break through the wall of the ATB Financial in Caroline, Alta., reported Global News.
According to Alberta RCMP, more than 130 ATMs were stolen across Alberta in the first six months of this year.
"These groups consistently targeted small-town Alberta," Staff Sgt. Dave Knibbs told CBC News in the summer — the same time Alberta Law Enforcement Response Teams announced they would launch a special investigation into the rash of thefts.
"They terrorized rural communities and left behind a trail of destruction ... If we consider the personal cost, this is a destroyed business, or a destroyed workplace."
Also on HuffPost