A year after a cheetah was spotted wandering along a highway in B.C., two people have been charged.
Earl Pfeifer and Carol Plato have each been charged with one count of possessing an alien species without a permit, reports CTV News.
Conservation officers spent several days looking for the animal last December, after a motorist snapped a few photos of the stray cat wandering the side of a Highway 3A in the Crawford Bay and Kootenay Bay areas on Dec. 17, 2015.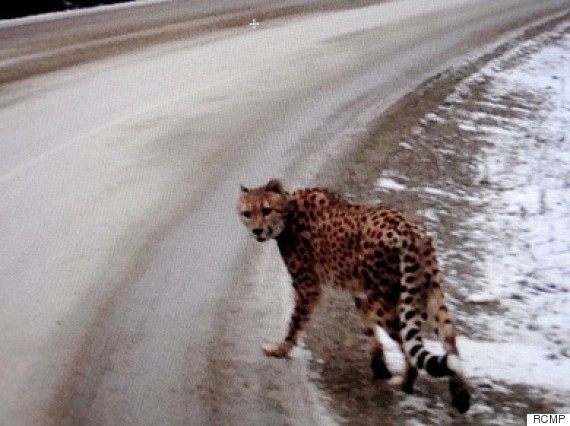 RCMP released photos of this loose cheetah who appeared to be wearing a collar.

At the time, local residents were warned to keep an eye on small children and pets.
The search was called off the following week and a spokesman with B.C. Environment Ministry told the National Post it's unclear whether the cheetah was ever found.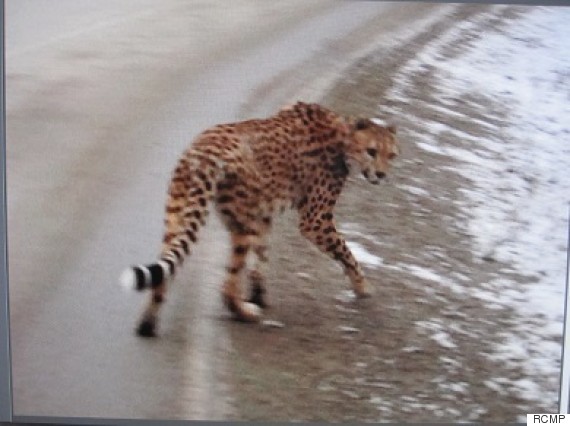 Shortly after the stray cheetah was spotted, the B.C. Forests Ministry said they had received a permit application to possess a cheetah in the Kootenay region, and the application was under review.
According to Pfeifer and Plato's "Runcheetahrun" Facebook page, the couple brought two cheetahs, Robin and Annie Rose, over from South Africa in 2013 to help with rehabilitation efforts for health issues in both cats and to raise awareness and funds to help cheetah conservation efforts.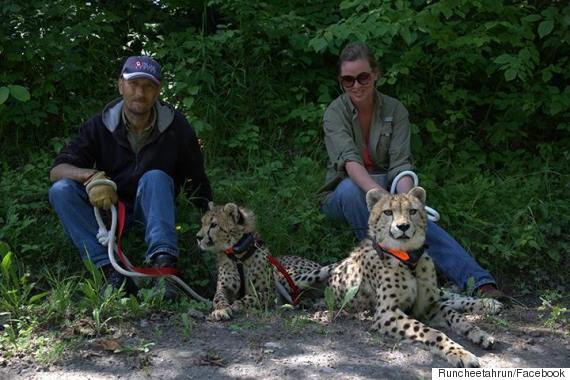 A photo posted to Facebook in July of 2013 shows Earl Pfeifer and Carol Plato with their cheetahs. (Photo: Runcheetahrun/Facebook)

That year, the couple, who were living in Ontario at the time, were given the go-ahead by town council to bring two cheetahs to the B.C. village of Kaslo, reported the Nelson Star.
Around that time, they told the Port Perry Star that they wanted to start outreach and education programs in B.C. including a program where members of the public could pay a fee to take the cheetahs for a walk.
There was a short period in 2014 where the cheetahs were living at the Discovery Wildlife Park in Innisfail, Alberta. They were removed due to safety reasons, reports CBC News.
The Facebook page has not been updated since August 2015, when a post wished one of the animals a happy birthday.
Pfeifer and Plato are scheduled to appear in court in Creston in February.
Follow The Huffington Post Canada on Facebook, Twitter, and Instagram.

Also on HuffPost
Wild Animals Who Are Part Of The Family