OTTAWA — He is the candidate many New Democrats hope will take the federal leap — a bright light who represents the future of the party, and a leader who could potentially compete against Prime Minister Justin Trudeau, say supporters.
Outside of the Greater Toronto Area and NDP circles, however, few have heard of Jagmeet Singh.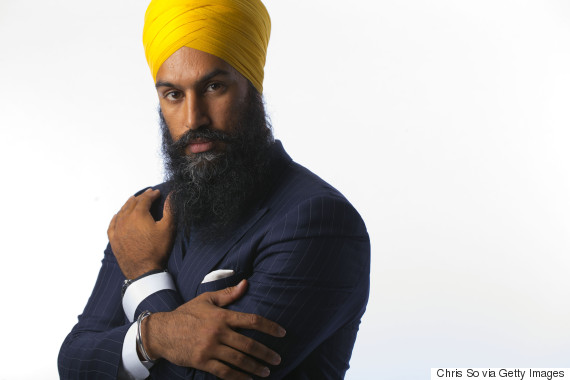 Jagmeet Singh is currently the deputy leader for the Ontario NDP. (Photo: Chris So/Toronto Star via Getty Images)
Singh, 38, is a confident, charming, political organizer who currently serves as deputy leader of Ontario's NDP. With a provincial election around the corner in 2018, Singh has an important decision to make.
Does he jump into the federal leadership race — a contest many high-profile New Democrats have eschewed? Or does he stick around provincially, and line himself up to take over from current leader Andrea Horwath if she loses the next election, or a senior cabinet portfolio if she wins.
In an interview with HuffPost Canada, Singh acknowledged the dilemma.
"I'm considering all the options. What would be in the best interest of Canada. What would be in the best interests of the progressive movement... these are some of the factors that I'm thinking about as I chat with folks."
Exciting times
Provincially, it's an exciting time to be a New Democrat, he said. Pointing to the 1990s, when then provincial NDP leader Bob Rae won a surprise majority government, Singh said the party has "an amazing opportunity to really shine." The governing Liberals under Kathleen Wynne are deeply unpopular and the New Democrats' platform will differ substantially from that of the Progressive Conservatives. The party also has a popular leader in Horwath, Singh noted.
Still, Singh — who speaks English, Punjabi and a remarkably high level of French — is testing the field. Supporters are calling to encourage him to enter the federal leadership contest. He is gauging interest, fundraising capacity, and organizational strength.
"I'm definitely keeping the doors open, listening to what people have to say. I'm really honoured by my position, like I'm really excited with what I'm doing provincially as well, so I will definitely continue to listen to what people have to say," he repeated.
"How's that? Did I skate it well, or what?" he added with a laugh.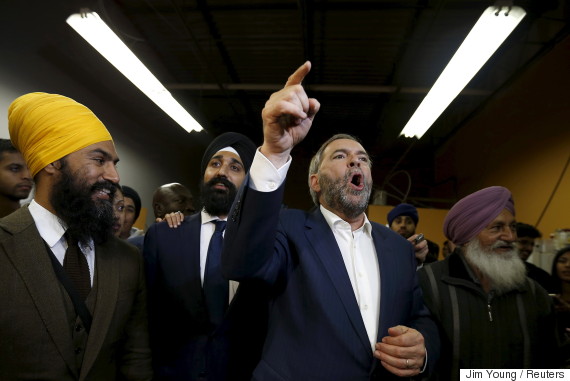 NDP Leader Thomas Mulcair speaks at a federal election campaign stop in Brampton, Ont. in October 2015, next to fellow NDP members Jagmeet Singh, left, and Harbaljit Singh Kahlon, second left. (Photo: Jim Young/Reuters)
Singh has ready answers to the current problems facing the federal party, but he has little to say, so far, on what policies he might champion.
On the controversial Leap Manifesto, which split party members at the Edmonton convention last April, Singh argues that New Democrats don't need to choose between leap or no leap.
"If you get New Democrats together in a room and you ask every single one of them ... if they believe we need to do what we can to address climate change and we need to tackle the problem of our impact on the environment, you would have everyone's hand up," he said. "All New Democrats believe Canada needs to transition to a sustainable economy."
While his language may help bridge both sides of the party, it glosses over the manifesto's radical call to leave oil in the ground by not building new pipelines and for the shift to care for the earth to "begin now."
"There is no longer an excuse for building new infrastructure projects that lock us into increased extraction decades into the future," the manifesto states, for example.
... you have to be in a position of power to influence change, and you can see how much amazing change can be brought when you are in power.
Singh is clear on what he wants the NDP to be. The party needs to compete to win. And, he said, he sees a possibility in 2019 — much as he believes one exists in Ontario in 2018.
"I firmly believe that you have to be in a position of power to influence change, and you can see how much amazing change can be brought when you are in power," he said, pointing to Rachel Notley's NDP government in Alberta. "Within a year, they froze tuition fees, they implemented a change in the way electoral financing happens, they brought in $15 minimum wage. They brought in so many epic things."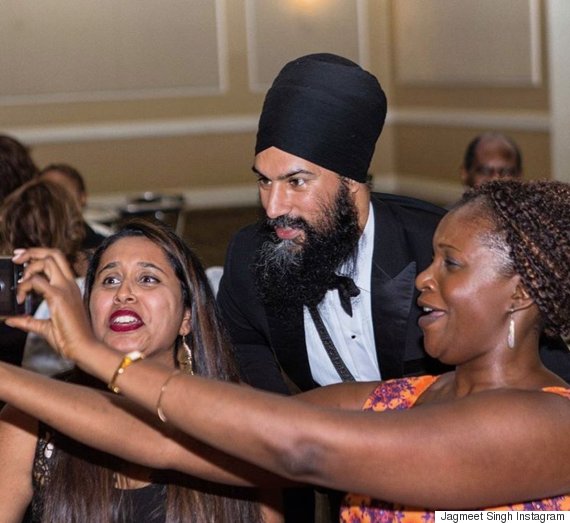 Jagmeet Singh poses for a selfie. (Photo: Gurkirat Batth)
Those who know Singh describe him as a young politician who is the complete package. NDP organizer Robin MacLachlan described him last year as someone who has the "royal jelly."
Dan Harris, a former NDP MP for Scarborough, Ont., notes that Singh is the only elected New Democrat in the 905 area around Toronto.
"There are just as many ridings in that part of the GTA [Greater Toronto Area] as there is in Toronto proper, and somebody like Jagmeet could potentially do very well in those areas. And with 50 seats in the GTA, nobody is winning government without a plurality in that area," Harris said.
Singh's popularity with young people could also help swing them from Trudeau to the NDP, Harris hypothesized.
Singh is active on social media, with a strong following. He tweets and Snapchats. The bachelor's Instagram feed is filled with glamour shots of him posing in different coloured turbans and three-piece suits — some of which he designed himself — with his hipster Gazelle bike, epitomizing urban life in Toronto.
But not all of Singh's actions on social media have garnered praise. His enthusiastic support for former Cuban dictator Fidel Castro raised more than a few eyebrows.
In a statement similar to Trudeau's own foreign affairs faux pas, Singh tweeted that Castro "saw a country wracked by poverty, illiteracy & disease. So he lead [sic] a revolution that uplifted the lives of millions"
He saw a country wracked by poverty, illiteracy & disease. So he lead a revolution that uplifted the lives of millions. RIP #FidelCastropic.twitter.com/Ib6O0Zrtxv

— Jagmeet Singh (@theJagmeetSingh) November 27, 2016
He earned rebuke from a self-described Zionist Toronto Sun columnist in December, who took issue with Singh allowing some professors to hold a press conference at Queen's Park to decry the suspension of a Mississauga teacher who had made inflammatory remarks at a pro-Palestinian rally.
That said, the vast majority of the media attention Singh has received in the past has been overwhelmingly positive.
There are flattering profiles in the Toronto Star. Toronto Life named him one of their best-dressed in 2013 — he listed Tom Ford suits (which retail for approximately $5,000) as his current obsession and included a handmade briefcase in his fall must-haves.
More from HuffPost Canada:



Buzzfeed dubbed him "the most stylish politician in Canada by like a million kilometres" and Canadian Lawyer called him "the most interesting man at Queen's Park." TorontoVerve, a blog about fashion, wanted to talk to the politician about his relationship status just as much as it seemed interested in his policies and fashion choices.
It's not difficult to see why he was a star at the federal NDP's Christmas party, or why the British Columbia wing of the party and the Alberta NDP asked him to give keynote speeches last year at their gatherings.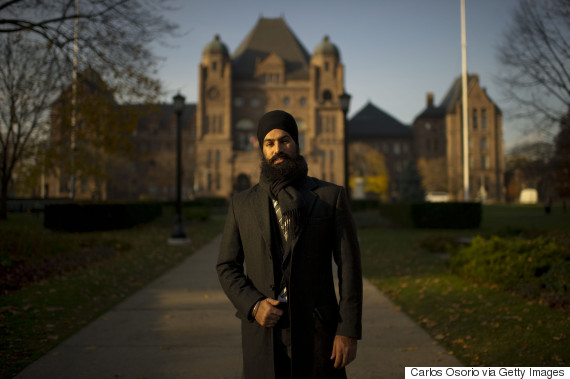 Jagmeet Singh, photographed at Queens Park in Toronto, is the MPP for Bramalea-Gore-Malton. (Photo: Carlos Osorio/Toronto Star via Getty Images)
A former criminal defence lawyer, Singh first ran federally in 2011. He came within one percentage point — 539 votes — of winning Bramalea–Gore–Malton, a GTA riding with one of the highest percentages of East Indians in Canada.
"It was pretty epic," he said of his campaign, which motivated a large number of young people in particular.
His candidacy was mostly a protest and advocacy campaign, he said. The NDP had never won more than 15 per cent of the vote in the riding. Spurred by that campaign's success, Singh and his team decided to push their momentum towards the provincial election that was only six months away.
They focused on two issues he kept hearing about at the doors:
The use of temporary job agencies, which drive down wages and prevent permanent employment
The high cost of auto insurance, due to a practice known as redlining, he said, that discriminatively charges more for the same service in poorer neighbourhoods.
"It's not the sexiest issue, per se, auto insurance, but when you get into it, the fact that people are being discriminated against by their postal code and it happens to be racialized people, lower socio-economic people, that's wrong. And that shouldn't be happening."
On Oct. 6, 2011, Singh became the first NDP MPP to represent the Peel Region. He also became the first turbaned-Sikh to sit at Queen's Park.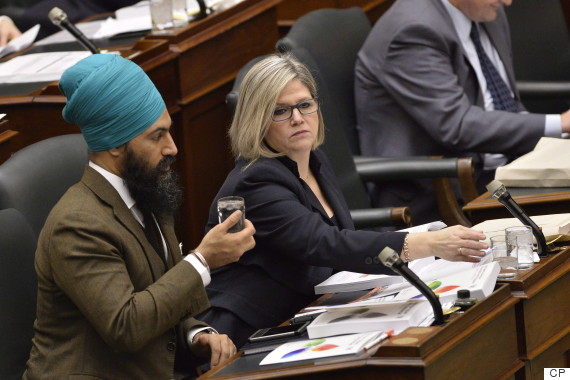 Ontario NDP Leader Andrea Horwath, right, talks with MPP Jagmeet Singh during the Ontario 2016 budget at Queen's Park. (Photo: Nathan Denette/Canadian Press)
He proudly notes action on one of the issues he championed. The NDP convinced the Liberals to trim auto insurance rates by 15 per cent — cost-savings that were supposed to kick in last year. Some people noted that cheaper plans came with a loss of coverage. And last fall, rates appeared to be back up.
In 2015, a few months before the the federal election campaign kicked off, Horwath offered Singh the position of deputy leader, then he confirmed he wasn't going to run federally.
"She gave it to me because she wants to win this next election and needed someone to help with outreach and I had proven myself as someone who could engage new communities and young people," he told HuffPost.
Singh worked with members of the black community to fight the Toronto police force's policy on carding. He engaged an impressive number of young people and built strong ties with the Tamil and Muslim communities.
Asked if he'd feel guilty about leaving Horwath just before the Ontario election, Singh said he believes the provincial party is in a "tremendous position" going into the 2018 vote. "But I wouldn't feel guilty about making any decision about politics, if I felt that it would best serve the people."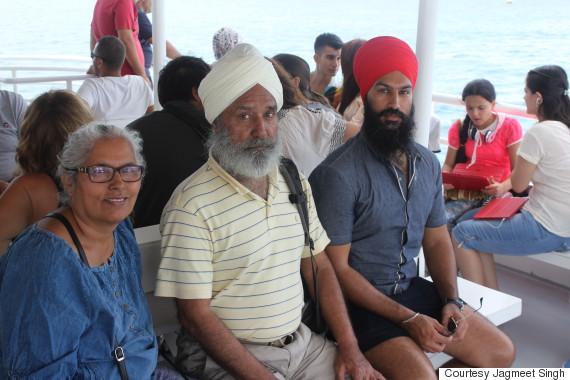 Jagmeet Singh poses with his parents, who immigrated from Punjab to Canada.
Singh's dedication to fixing issues of inequality and oppression can be traced back to his early life in St. John's, Windsor and Detroit.
Singh is the eldest of three children. His first name, which means "friend of the earth," is a combination of his parents' names, Harmeet and Jagtaran.
They wed in Punjab in an arranged marriage in the mid-1970s. His mother was already living in Canada at the time, having been sponsored by her sister. Harmeet, in turn, sponsored her husband, and Singh was born in Scarborough on Jan. 2, 1979.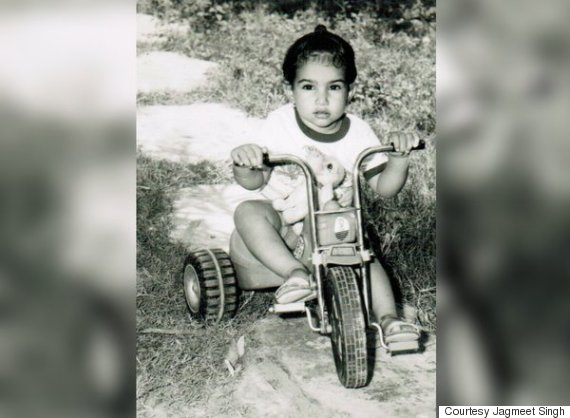 Jagmeet Singh in an undated childhood photo.
When he was one year old, his parents sent him to live in Punjab with his father's mother. Harmeet worked at a bank, and Jagtaran, a trained physician, was working as a security guard at night and studying for his medical recertification during the day. They were struggling to make ends meet and couldn't take care of the baby.
A year later, Jagtaran was accepted to the psychiatry program at Memorial University in St. John's and Singh returned to live with his parents.
"For a little bit of time, I called my actual mom 'aunt' [Bhua] because I called my grandmother 'mom' .... My mom was really sad."
Newfoundland is where Singh learned English. His sister, Manjot, was born shortly after the family's arrival, and his brother arrived three years later.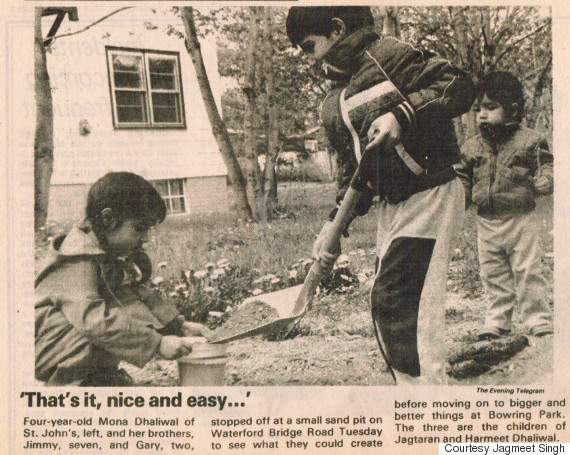 A newspaper clipping shows seven-year-old Singh with his siblings playing in the sand. The caption identifies him as "Jimmy."
His birth certificate actually reads: "Jagmeet Singh Jimmy Dhaliwal." His parents thought it would be easier to go by Jimmy and "less weird sounding than Jugmeet," he explained. (Jagmeet is pronounced "Jugmeet.")
Singh dumped "Jimmy" (a name "chosen just so I could fit in") in favour of his first name when the family moved to Windsor, where his father got a job as a hospital psychiatrist.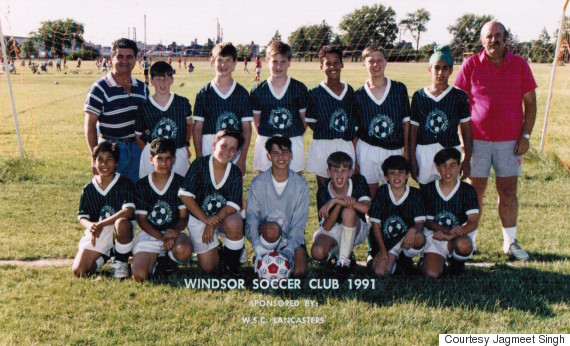 Jagmeet Singh, at top right, was about 12 when this team photo was taken.
Windsor was "rough."
"There was a lot of racism as a brown kid, with long hair and funny-sounding first name.... I got in a lot of fights all the time," he recounted.
"Kids would say: 'You're dirty, your skin is dirty, why don't you take a shower' ... or 'You're not a boy, you're a girl because you have long hair,' and then they would just come up and pull my hair, or just punch me."
It wasn't just the kids, Singh said. Parents would also point and laugh.
His father enrolled him in taekwondo so he could learn to defend himself. Singh later became captain of his high school wrestling team and won the scholar athlete award. Between 2003 and 2007, he was the GTA's undefeated champion for his weight class in submission grappling — a form of judo, wrestling and Brazilian jiu jitsu.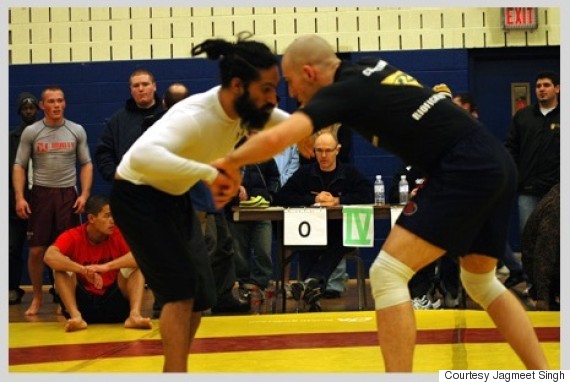 Jagmeet Singh excelled at submission grappling.
Being picked on also forced him to learn to portray confidence, he said.
"That makes you less of a target when you are very sure of yourself," he said. "I tried to carry myself very confidently and I had to try to develop this mentality that people are going to stare at me, they are going to look at me, so I better give them something to look at."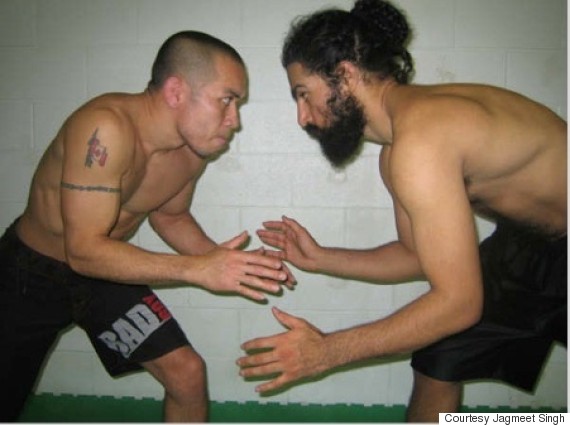 Windsor is also where Singh learned French. He came to the language in a somewhat unusual way.
In grade school, Singh was fascinated by Punjabis' struggle for language rights in India. "They didn't allow certain states to be able to teach their own languages ... and it was really oppressive," he said.
He focused on that language issue for school work, and his research invariably led him to struggles that French-Canadians also faced.
"I felt like it was kind of an act of solidarity. I'm Canadian, I'm born in Canada, and as an act of solidarity, I learned the language of another community that was also struggling with their language rights."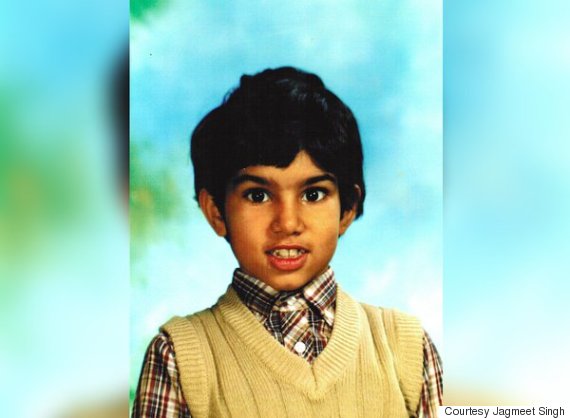 Jagmeet Singh attended grade school in Windsor, Ont.
He took French as an elective, worked with a tutor in Grade 8 to improve his skills over the summer, and did "extra things" after school to "develop a better accent."
Singh listened to francophone music, including New Brunswick heartthrob Roch Voisine and French singer Patrick Bruel.
"I bought his cassette, 'Alors Regarde,' and I used to play it a lot," he said, of his 1989 HMV find.
Singh said he speaks French "fluently for an anglophone with a decent non-anglophone accent."
... people are going to stare at me, they are going to look at me, so I better give them something to look at.
Concerned about the daily fights at school, Singh's father sent him across the border to attend high school in Detroit. Some of his father's friends had enrolled their kids in the private Detroit Country Day School, and his dad thought it would remove the bullying and help him focus on academics and sports.
The new school helped.
Changing course
Singh went on to complete a bachelor of science in biology with a minor in sociology. He intended to follow his father's footsteps and go to medical school. But when his dad got sick, he began pursuing a computer science degree as he felt it would allow him to enter the workforce sooner. Singh changed course again when he was accepted into law school.
As a student, Singh championed anti-poverty efforts, immigrant and refugee rights, lower tuition fees, and access to to education. As a lawyer, he provided these groups with free legal advice on their rights during protests and how to do it effectively.
After graduating from Osgoode Hall, he joined Pinkofsky, a big criminal defence law firm in Toronto. It drilled into him, he said, the notion that everyone in a democratic society should be able to get good legal representation.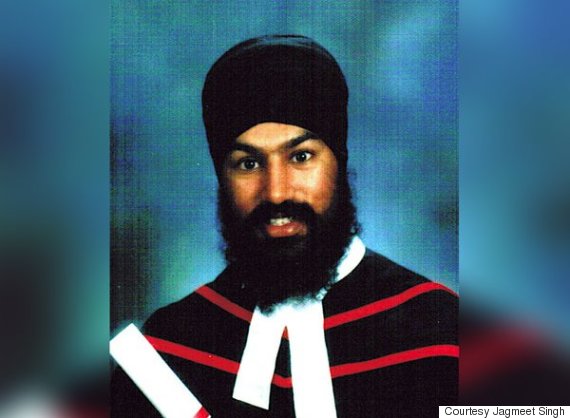 Graduating from law school in 2005.
A year later, he started his own practice in Mississauga, Ont. Business was going well, and he was planning a move to a bigger office across from the busy Brampton courthouse, when some of the groups he had helped encouraged him to run for office.
Some Sikh activists, led by his brother, Gurratan, and a friend named Amneet Singh, were particularly vocal. They had protested against the visit of Indian minister Kamal Nath, a man accused of leading a deadly rampage against Sikhs in 1984 after Indian prime minister Indira Gandhi was assassinated by her Sikh bodyguards. '
And they felt the political representation in Brampton wasn't supportive or respectful of their concerns about the visit, Singh told HuffPost.
He was initially reluctant to give up his law career. He enjoyed his job, liked making money — he candidly admits he has a penchant for the finer things in life — and wasn't looking forward to taking a pay cut.
Jagmeet Singh credits his brother with nudging him towards politics.
"I was hesitant, but it turned out to be amazing," he said "I've learned so much, I've grown so much, I've helped out so many people, I feel like I've inspired so many people, it's been so rewarding."
During his first campaign, Singh eschewed using his actual last name "Dhaliwal." It was the name he used to practice law, and the one everyone knew him by, but he said he wanted to drop the Punjabi upper-caste surname to send a message. The caste system is racist and classist, he said, and he wanted his candidacy to represent a message of equality and justice.
"I want everything we do to have meaning, so I decided that if I'm running to represent the people of my riding, I want it to be known that I will represent all people, not just my clan," he offered.
Some people in the community thought Singh's idea would backfire, but he believes it made him more approachable at the doorstep.
Addressing systemic discrimination across Canada is one thing Singh would like to continue working on if he decides to jump to the federal scene. He also wants to address income inequality and overhaul the justice system so fewer people are spending time in jail for offences that he feels don't require such harsh punishment.
At Queen's Park, Singh recently garnered a bit of attention for a statement condemning Republican president-elect Donald Trump. Trump's misogynistic language and divisive message of creating fear by pitting communities against each other was xenophobic, anti-Muslim, racist and bigoted, Singh told HuffPost.
"That message offended me, and I wanted to denounce that and also kind of inspire a bit of hope that we can build up a better society that doesn't require us to tear others down."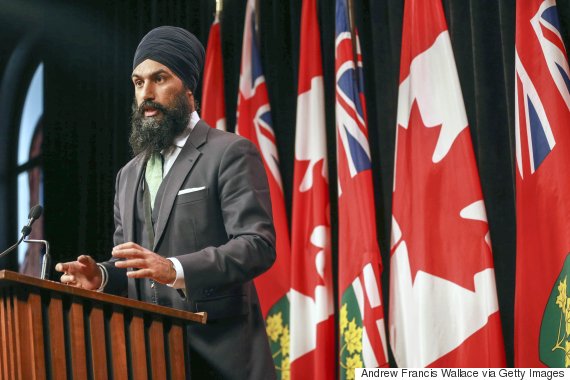 Deputy Ontario NDP leader Jagmeet Singh speaks at a news conference at Queen's Park in October 2015. (Photo: Andrew Francis Wallace/Toronto Star via Getty Images)
Singh genuinely appears unsure of what his next career move should be.
Asked if he thinks the country is ready for a young, brown Sikh prime minister, he laughed.
"I would not have thought we were ready for a brown Sikh defence minister, and that turned out pretty good, so who knows? Maybe."
In a conversation a week later, he said: "I'll treat [my run in politics] like a sprint and try to do the maximum amount of good in the time I have, and then figure out what to do afterwards."
Politics isn't a career, Singh added. "It's an amazing opportunity. It's a gift but not something you can take for granted.... I want to do something epic, that I enjoy, and that leaves the world a little better than I found it."
Also on HuffPost