It's an experience no human being should ever have to go through.
Paralympian Anne Wafula Strike was forced to wet herself on her wheelchair because the train she was on didn't have an accessible toilet in service, the Guardian reports.
The 47-year-old British athlete, who is also a disabilities campaigner, told the paper she was "completely robbed of her dignity" when she sat on a train for three hours on Dec. 8.
"I would like to ask the train company when will they give me my dignity back? As a disabled person I have worked so hard over the years to build up my confidence and self-belief," she said.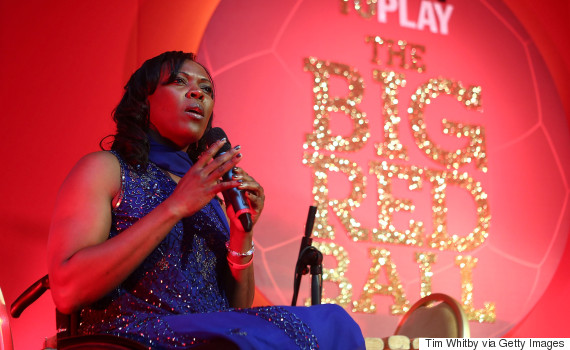 The athlete, who hails from Kenya, said she covered herself in her hoodie in humiliation, and pointed out having access to a toilet in a developed nation is a basic right.
"I tried to conceal the smell of urine by spraying perfume over myself," she said. "When I finally got home after my nightmare journey, I scrubbed myself clean in the shower then flung myself on my bed and sobbed for hours."
"People with disabilities don't want perfection, we just want the basics and to have our independence. But lack of access and inclusive facilities make us feel as if we are an afterthought," she continued.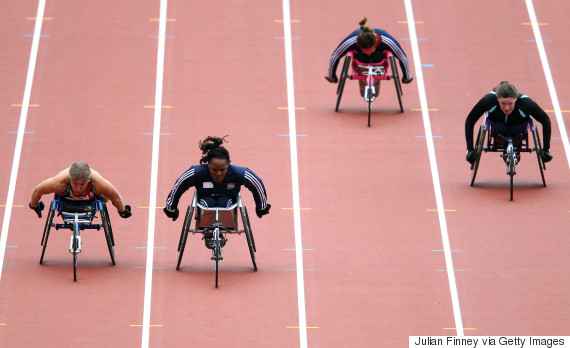 Anne Wafula Strike of Great Britain races with Hannah Cockroft of Great Britain in the Women's 100m T54 final during the Visa London Disability Athletics Challenge LOCOG Test Event for the London 2012 Paralympic Games at Olympic Stadium on May 8, 2012 in London, England.
On Twitter, people called the Paralympian everything from "brave" to "courageous" and called the U.K.'s CrossCountry train service a "total disgrace."
Appalled that wheelchair-user Paralympian #AnneWafulaStrike has no apology yet-wet herself on train with a non-usable boarded-up loo!

— avri_lee_bee (@birdiehop) January 2, 2017
@Anne_W_Strike I just read your story and I wanted to pay my respects to you for going public and acknowledging this issue.

— Marina Ntonti (@fishbonegre) January 2, 2017
@triciaknockers Yes, kudos to @Anne_W_Strike for highlighting such a common problem that tends to remain shrouded in embarrassed silence.

— Rob Kinsman (@KinsmanRob) January 2, 2017
.@Anne_W_Strike I'm not sure I would've had the courage to speak out as you have. Thank you. I hope all train companies will listen and act.

— Lynwen (@Lynwen) January 2, 2017
.@Anne_W_Strike you definitely will not be remembered for the incident itself, you'll be remembered for having the bravery to speak up

— Charlie Cuff (@CharlieBCuff) January 2, 2017
Speaking to the Guardian, a CrossCountry spokesperson said they were "extremely sorry" the toilet was out of order.
"Our managing director has passed on our apologies to her along with an explanation of why it appears all our systems failed her on that day. We hope she will take up our offer and contact us in the new year so we can offer her a more pleasant experience of travelling with us."
Read the full story in the Guardian here.
EDITOR'S NOTE: Anne Wafula Strike is actually 47 years old, not 42. A story used as a source misstated her age. The story has been corrected.
Also on HuffPost