In an amazing feat, a two-year-old boy managed to save his twin brother after a dresser fell on him.
The incident occurred last week when Utah boys Brock and Bowdy Shoff climbed into the dresser's open drawers.
While mom Kayli Shoff told NBC News that she "usually hears everything," she and her husband Ricky didn't hear a sound when the dresser toppled over. "We didn't hear a cry, we didn't hear a big thud," Kayli said.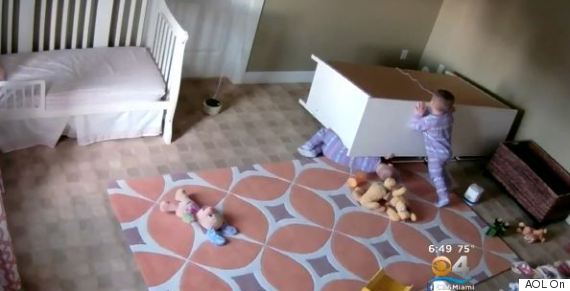 When the Shoffs checked on their toddlers, they noticed the dresser had fallen over, but the boys were still playing. It wasn't until they watched the footage on their nanny cam that they realized what had happened.
Watch the video above to see the remarkable footage.
Luckily, Brock didn't suffer any serious injuries thanks to his brother's quick thinking.
"Bowdy just came around and assessed the situation thinking, 'I need to help my twin brother. What do I do here?'" the mom explained. "[He] tried to lift [the dresser] at first, and obviously that didn't work, so he just pushed with all of his might and pushed it right off his brother."
Following the incident, the Shoffs secured their dresser to the wall. The parents are now sharing the scary footage of their toddlers to spread an important message.
"Everybody needs to bolt down their dressers to the wall. I mean, we just didn't think about it," Kayli said. "Accidents are going to happen, but we want to spread awareness to this one accident that happened and hope that it doesn't happen to any other family."
In the past, Ikea has issued safety warnings about anchoring dressers to the wall. As of last year, three children have died after Ikea's Malm dresser toppled on them. The Swedish furniture company now provides wall anchoring kits as a safety precaution.
Also on HuffPost
Ikea Hacks For Toddler Beds