The apocalypse Winter has descended upon Metro Vancouver.
Snow, followed by slush and falling temperatures have turned streets into dangerous slick surfaces.
Hey @CityofVancouver the streets are skating rinks and really tough on the elderly. Hope you can get salt trucks out soon. #safetyfirst pic.twitter.com/knJeVdinHC

— Margaret Doyle (@Magsedoyle) January 2, 2017
The good citizens of the region are doing their best, arming themselves with hammers...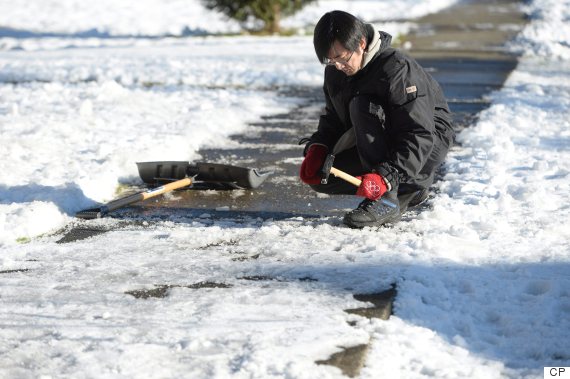 A man chips away at the ice on the sidewalk in front of his house in Vancouver on Tuesday. (Photo: Jonathan Hayward/Canadian Press)
And axes.
@PhantomShovel69, hard at work #Canada #portmoody pic.twitter.com/QjBrdZXd74

— The Phantom Shovel (@PhantomShovel69) January 4, 2017
(Tip from the pros though: don't do that because you can damage tools, the surface, or yourself.)
With many stores sold out of road salt, the city is now gripped by the Great Salt Crisis of 2017.
Here we go again. Another long line for free salt growing - only moments after hundreds left empty-handed. pic.twitter.com/og3qY0IjI6

— St John Alexander (@ctv_stjohn) January 4, 2017
People are lining up for HOURS at Vancouver fire halls for free salt.
Waiting for salt at Vancouver Fire Hall #14 and there is none at the moment pic.twitter.com/aQFBjhwvfB

— Melissa Shaw (@Melissa_Shaw22) January 4, 2017
Police had to be called when crowds got out of control at three fire halls on Tuesday.
That's it. ALL 100+ ppl rushed to @CityofVancouver salt supply. GONE in 3 MINUTES. I'm at hall 17 on knight st pic.twitter.com/s0bEOBULcE

— Emily Lazatin (@EmilyLazatin980) January 5, 2017
And now, there's a brisk salt trade on Craigslist.

The mayor of neighbouring Coquitlam appears ready to start a fight that could rival the Battle of Hoth:
Guarding #Coquitlam 's stockpile of road salt, after #Vancouver called looking for some.
:) pic.twitter.com/khoGYguF9a

— Richard Stewart (@MayorStewart) January 5, 2017
So far this winter, the City of Vancouver has gone through about 7,000 tonnes of salt, which is seven times the average amount used in each of the previous two winters.
More snow is forecast for the next few days.
But this being Vancouver, do not fear. The bike lanes are all clear.
I love Vancouver, but.... the bike is cleared yet the walking path is solid sheet of ice a… https://t.co/CbBgftKOaM pic.twitter.com/saQV8csapW

— Bradley Wattum (@BradleyWattum) December 21, 2016
With files from The Canadian Press
Also on HuffPost
Crazy Things Vancouver Drivers Use To Brush Snow Off Windshields