It's been a good year for African-American filmmakers. Black actors, directors and writers have received critical praise and award nominations for various films, including "Moonlight."
"Hidden Fences" is not one of those films.
At Sunday's Golden Globes red carpet, NBC's Jenna Bush Hager asked musician Pharrell Williams about his work on the film "Hidden Fences."
"you're nominated for Hidden Fences" pic.twitter.com/7My6dtEkbG

— Dave Itzkoff (@ditzkoff) January 9, 2017
Williams, actually worked on the score of "Hidden Figures," a Golden Globe-nominated film about the untold story of female African-American scientists during the early days of NASA.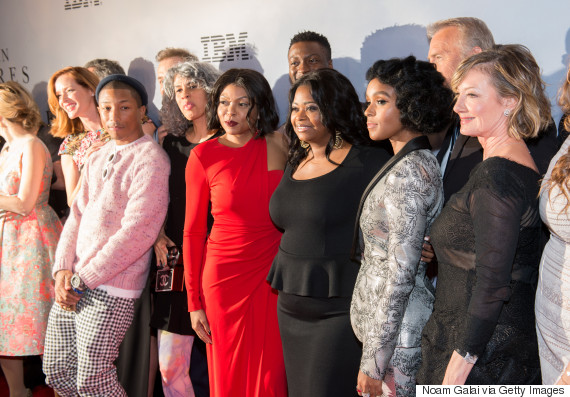 Some of the cast of Hidden Figures. A movie that actually exists. (Noam Galai/WireImage)
Later in the night, actor Michael Keaton made a similar mistake while presenting an award to Viola Davis for her role in "Fences," a drama starring and directed by Denzel Washington, based on a August Wilson's play.
Hidden Fences. First Jenna Bush on the red carpet. Now Michael Keaton on stage. *facepalm* #GoldenGlobes

— Awesomely Luvvie (@Luvvie) January 9, 2017
Which, to reiterate, is not the same movie as "Hidden Figures," and neither movie is titled "Hidden Fences." https://t.co/2CbzSm4TYx

— The New York Times (@nytimes) January 9, 2017
Twitter had a field day with the flub and created the #GoldenGlobeErrors hashtag, poking fun at how Hollywood seems to have a trouble keeping movies straight, especially when they involve black actors and actresses. Sigh.
How To Get Away With Scandal#GoldenGlobeErrors #HiddenFences

— Tam (@Sw33tTamBam) January 9, 2017
How Stella Got Her Body Guard #GoldenGlobeErrors pic.twitter.com/IpmbGatajJ

— OXTAIL GAWD (@ThatDudeMCFLY) January 9, 2017
Boys in the Wood #GoldenGlobeErrors #HiddenFigures #HiddenFences pic.twitter.com/6M4D7jcLA8

— Nofro Samurai (@nofroxsamurai) January 9, 2017
Can't wait for the #GoldenGlobes to pay tribute to Prince for his film The Color Purple Rain. #HiddenFences

— Anthony Breznican (@Breznican) January 9, 2017
Also on HuffPost
Golden Globes 2017: All The Red Carpet Looks