There's nothing quite like getting a hug from a furry friend.
Most of us opt for cats and dogs, but one lucky man regularly gets loving bear hugs from a bear itself.
Jim Kowalczik rescued a 23-year-old bear, named Jimbo, when he was an injured cub. Years later, the two share an unbreakable bond. The 10-foot-tall Kodiak bear serves up cuddles, while Kowalczik reciprocates with back rubs, The New York Times reports. (Watch the video above for proof.)
The duo shows off their friendship on Facebook and YouTube, and their connection has gone viral several times.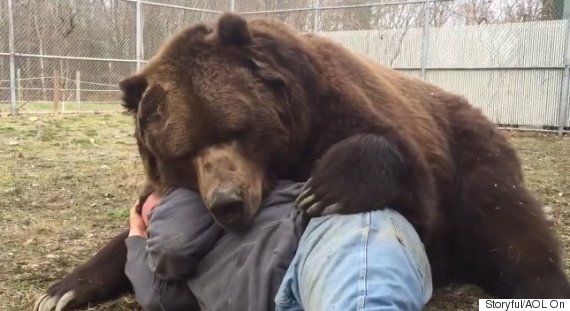 Jimbo is one of 11 bears that live at the Orphaned Wildlife Center in New York.
The animals are released into the wild once they recover, but some of the bears are too accustomed to captivity, Kowalczik told The Associated Press last October.
While keeping wild animals in captivity draws controversy, the rescue worker insists the bears are content.
"They're happy. If they weren't, you would know it."
Follow The Huffington Post Canada on Facebook, Twitter, and Instagram.
Also on HuffPost
Baby Bears In Waterton Lakes National Park