Sticking true to her "she's just like us" mantra, turns out the Duchess of Cambridge has a diverse palate when it comes to food.
The 35-year-old duchess (a.k.a Kate Middleton), who celebrates her birthday on Monday, Jan. 9, enjoys eating everything from raw foods to making family recipes at home, according to Delish.
According to former Kensington Palace chef Carolyn Robb in an interview with Racked in 2015, Catherine loves to cook for her family.
"You have to remember that she's not royal. She comes from a normal background and a normal home where she's always cooked for herself. And what I've always heard is that William enjoys spending time with her family because they just eat together at the kitchen table like a normal family. I'm sure that that's what they still do," she told the site.
The Duke and Duchess of Cambridge eating during a visit to Blachford Lake near Yellowknife.
When she was pregnant with Prince George, Hello! magazine reported the duchess' cravings included spicy vegetarian curry made by her family friends in her hometown in Berkshire.
Delish says when it comes to eating healthy, the mom-of-two also eats everything from watermelon salads to gazpacho to tabbouleh.
And when she isn't cooking and eating at home, Hello! also reports Kate loves the restaurant Bumpkin in London.
In fact in 2012, the duke and duchess took their 27-member staff to Bumpkin's Notting Hill location for a Christmas lunch.
And because both the duke and duchess are always on the go, they also get to indulge in local favourites while on tour.
While they were in B.C. in September 2016, the couple got to sample a giant "phallic" clam a.k.a. geoduck.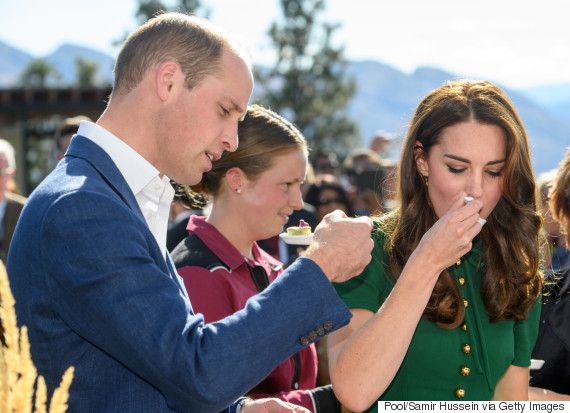 Prince William, Duke of Cambridge and Catherine, Duchess of Cambridge attend a Taste of British Columbia community event at Mission Hill Winery.
And when the couple was in Prince Edward Island in 2011, they got to experience some local oyster.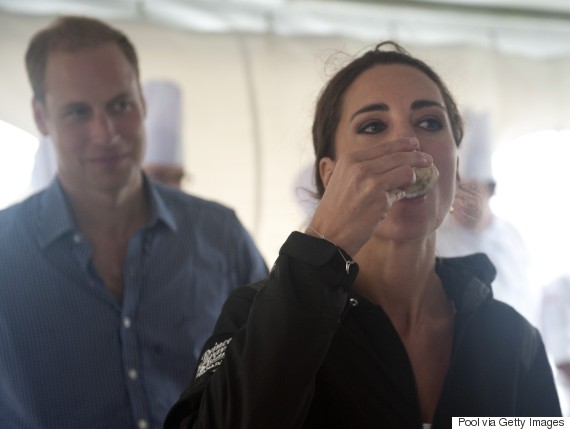 Prince William, Duke of Cambridge and Catherine, Duchess of Cambridge meet with local chefs in the culinary station where the Duchess tried a local oyster in Prince Edward Island.
Now we only wonder what her policy for eating children's treats is...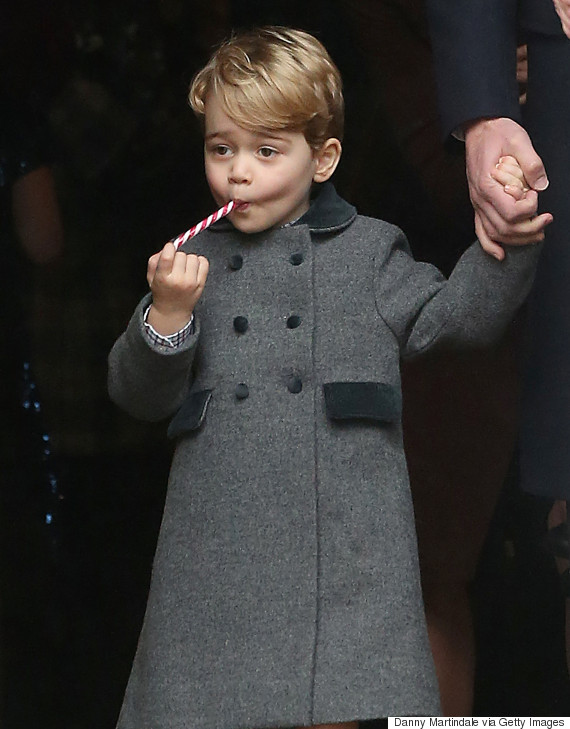 Also on HuffPost
Kate Middleton's Outfits From The Royal Visit 2016 - India And Bhutan