It turns out that wiping your feet on the national flag of a country with one billion people could upset a few folks.
Amazon learned that the hard way Wednesday, when India's foreign minister threatened to ban company employees after the site's Canadian portal offered for sale a doormat with the Indian flag on it.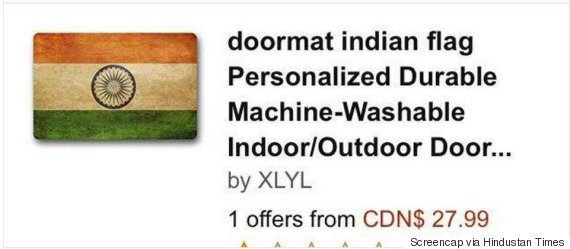 A screen capture of the Indian-flag doormat at the centre of Wednesday's controversy, caputred by the Hindustan Times before the listing was taken offline.
Indian foreign minister Sushma Swaraj took to Twitter to express her displeasure with the product, which was offered for sale by a seller called XLYL.
Swaraj even alerted India's high commission in Canada to take up the matter.
Indian High Commission in Canada : This is unacceptable. Please take this up with Amazon at the highest level. https://t.co/L4yI3gLk3h

— Sushma Swaraj (@SushmaSwaraj) January 11, 2017
Amazon must tender unconditional apology. They must withdraw all products insulting our national flag immediately. /1

— Sushma Swaraj (@SushmaSwaraj) January 11, 2017
If this is not done forthwith, we will not grant Indian Visa to any Amazon official. We will also rescind the Visas issued earlier.

— Sushma Swaraj (@SushmaSwaraj) January 11, 2017
Swaraj has developed a reputation for using "Twitter diplomacy," The Guardian reports, and in this instance, it appears to have worked.
An Amazon spokesperson told the Hindustan Times Wednesday the item is "no longer available for sale on the site."
Apparently the vendor, identified by the newspaper as Hana Houdek, had removed the item from sale after the controversy erupted.
However, as of Wednesday, the vendor's doormats featuring the U.S. flag and British Union Jack were still available for sale on Amazon Canada.

The doormat controversy was not the only thing dogging Amazon's Canadian division on Wednesday.
The company agreed to pay $1.1 million in penalties and costs to Canada's federal Competition Bureau to settle concerns raised over its pricing practices.
The bureau said the concerns related to the "list price" Amazon shows customers as a comparison against the price being offered on Amazon.
The comparisons usually signalled "attractive savings'' for consumers but were unsubstantiated by the company, the bureau said.
It said Amazon relied on its suppliers to provide the list prices without verifying that they were accurate.
The Competition Bureau's decision ends a two-year-long investigation into Amazon pricing practices. The regulator noted that Amazon has since changed the way it advertises list prices on its site.
With a file from The Canadian Press
CORRECTION: An earlier version of this article erroneously referred to Sushma Swaraj using the pronoun "his."
Also on HuffPost