Amazon has been testing drone deliveries for a little while now, but a recently awarded patent shows that might just be the beginning of the company's futuristic distribution plans.
In April of last year, the United States Patent and Trademark Office awarded Amazon a patent the company had filed in 2014 for an "airborne fulfillment center utilizing unmanned aerial vehicles for item delivery."
CB Insights tech analyst Zoe Leavitt was the first to spot the odd document, which she coined the "Death Star of #ecommerce."
I just unearthed the Death Star of #ecommerce via @cbinsights... AMZN patent for airborne warehouses at 45K ft spitting out delivery drones pic.twitter.com/qEz2ilUtJP

— Zoe Leavitt (@zoe_leavitt) December 28, 2016
The patent describes giant floating warehouses that could, at the click of a button, send out items via drone to customers in cities below. It notes that it could be especially useful positioned above locations like a football stadium, which could be "expected to produce a demand for certain types of items (e.g., sporting paraphernalia, food products, etc.)"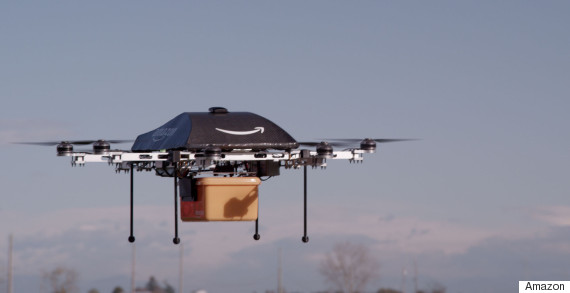 An Amazon Prime Air drone delivers a parcel. (Photo: Amazon)
It explains that the system would use less energy, as drones could simply lower products to the ground and then be brought back to the floating warehouses via resupply shuttles.
Of course, it's likely to be a while before a system like this could be implemented. Amazon Prime Air, the company's drone delivery service, just got off the ground last month, and the the company hasn't mentioned how it will handle issues like aerial traffic or drone delivery laws.
Follow The Huffington Post Canada on Facebook, Twitter, and Instagram.
Also on HuffPost