Many tears were shed during Barack Obama's farewell address on Tuesday night. But perhaps the most touching moment was when his eldest daughter, Malia, choked backed her emotions when her dad said just one name toward the end of his speech: "Michelle."
After declaring the name of his wife, the entire room got to their feet to give the First Lady a standing ovation. FLOTUS remained seated and silently mouthed the words "I love you" to her husband.
Then Obama launched into a beautiful tribute while 18-year-old Malia wiped tears from her face.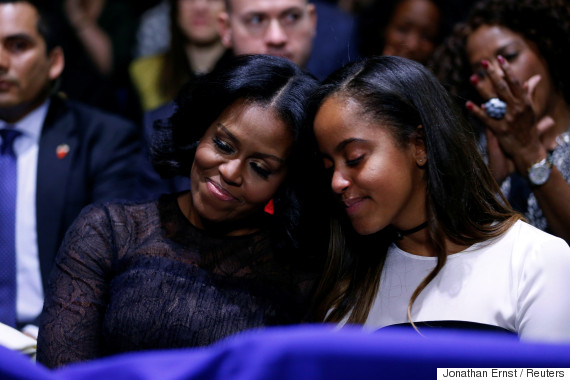 "Michelle LaVaughn Robinson, girl of the Southside.
For the past 25 years, you've been not only my wife and mother of my children, but you've been my best friend.
You took on a role you didn't ask for and made it your own with grace and grit and style and good humour."
At this point, everyone was back on their feet, cheering, and Obama had to dab at his eyes and take a moment to compose himself.
"You made the White House a place that belongs to everybody. And a new generation sets its sights higher because it has you as a role model. You've made me proud. You've made the country proud."
Then it was Malia and Sasha's turn.
"Malia and Sasha, under the strangest of circumstances, you have become two amazing young women," Obama continued. "You are smart and you are beautiful but more importantly, you are kind and you are thoughtful and you are full of passion. And you bore the burden of years in the spotlight so easily. Of all that I have done in my life, I am most proud to be your dad."
With her mom's arm around her, Malia remained poised, but it was obvious she took her dad's poignant words to heart.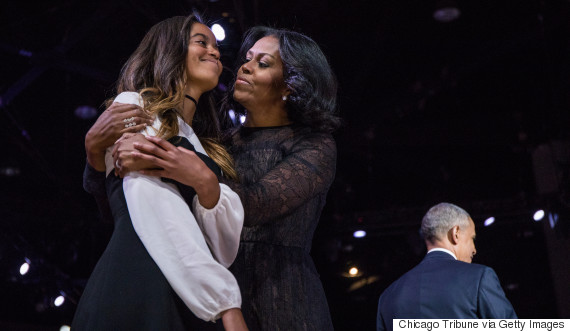 Unfortunately, Sasha, 15, wasn't able to attend the speech because she had an exam on Wednesday morning to study for.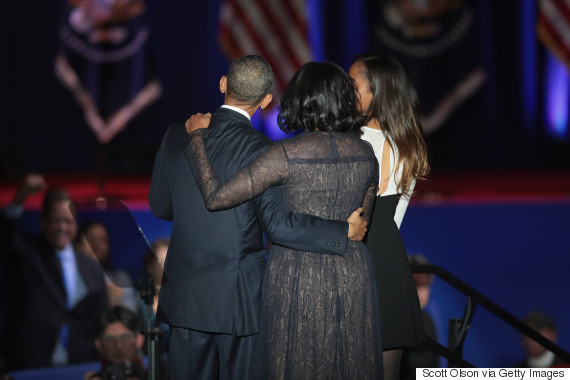 There is no doubt this family will be missed.
Also on HuffPost
Malia & Sasha Obama Through The Years