If you scroll down model Porsche Thomas' Instagram page, it seems as though the 5'9" beauty enjoyed every moment of her pregnancy, sharing several gorgeous shots of her ever-blossoming belly with her more than 30,000 followers.
But in the midst of her pre-natal bliss, Thomas had to deal with a few nasty Internet trolls who insinuated her baby bump was "too black." The attacks came after the self-proclaimed vegan chef posted a photo of herself sunbathing in a bikini in late December.
"Damn her stomach black ass shit," one user wrote.
"No disrespect but why her stomach so black?" said another.
One troll even went as far as to call Thomas' interracial marriage a "disgrace," and said the model had "some serious self esteem issues" for marrying a white man.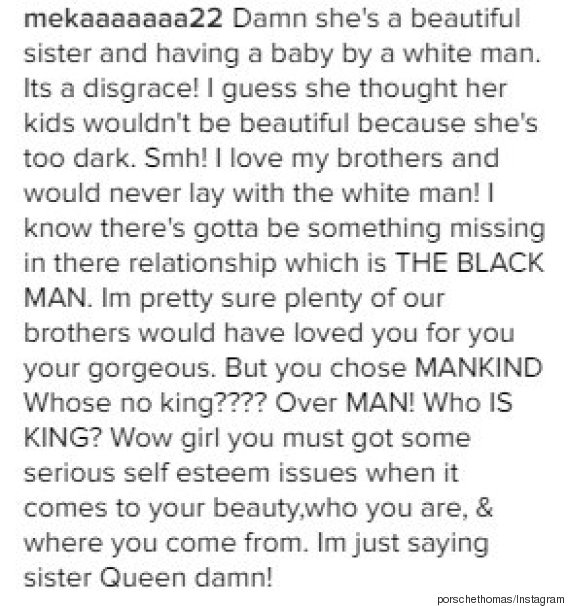 Ugh.
Fortunately, Thomas seems to be unfazed by the racially-charged, hateful comments.
Last Monday, the beauty queen posted a photo of herself (belly exposed) sipping tea with the caption, "While some of y'all been in my comments criticizing the blackness that is my belly and me during what shoulda been your holiday cheer, I been over here enjoying life, growing tiny humans, performing miracles and hopefully getting even blacker."
BOOM!
Thomas recently spoke with BET to share her thoughts on the ordeal.
"I shake everything off that's negative," she said. "I don't hold on to other people's opinions that have nothing to do with me. I laugh at the ignorance. I know it exists, it's there and it's sad."
The naturalista also told the network why she believes colourism is still an issue that darker-skinned black women face.
"I don't think there's a lot of self-love in the black community," she said. "I think the reaction to my photo is evident of that. Most of the negative comments I received were from black people, a lot of dark-skinned black people, a lot of young black people, which is crazy to me."
But despite the negativity, the Brooklyn, N.Y. native seems to be doing great, and gave birth to twin boys on Saturday.
Also on HuffPost