While everyone was crying over Barack Obama's farewell speech in Chicago on Tuesday night, Twitter was busy investigating #WhereIsSasha.
Watching #ObamaFarewell like #whereissasha ??? pic.twitter.com/uHF3lT406T

— Michael Dougherty (@nobadtripps) January 11, 2017
The U.S. president's wife, Michelle, and his 18-year-old daughter Malia were seen sitting in the front row during his address, but Obama's youngest, 15-year-old Sasha, was clearly missing in action.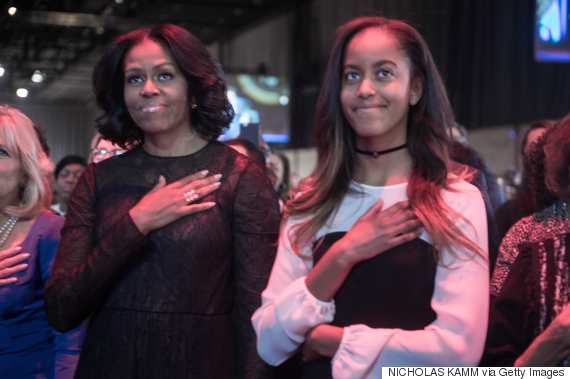 On Twitter, some hoped Sasha was trying to stop Donald Trump from getting into the White House.
#WhereIsSasha Hopefully blocking the driveway to the White House pic.twitter.com/NodjX8x4tB

— Sabra Berger (@SabraBerger) January 11, 2017
Where was Sasha Obama during @BarackObama's farewell speech? Hopefully setting 'Home Alone' traps for @RealDonaldTrump. 🇺🇸 😂 #ObamaFarewell

— Raphael ❌ Ralph (@WhoIsRMB) January 11, 2017
Turns out, Sasha had a valid excuse for missing her father's farewell speech (although it was not what Twitter had hoped): she had an exam the next morning.
According to BBC News, the teen is a student at Sidwell Friends private school, which is the same school a number of other presidents have sent their children.
While Sasha's excuse made sense, Twitter users still couldn't believe it.
Maybe but um her Dad is giving his last speech as leader of the free world... I would think her teachers would understand? #whereissasha https://t.co/tqE1oDt6Ji

— Marissa Bailey (@MarissaBaileyTV) January 11, 2017
I once excused a student from an exam to watch her father in a local bowling championship. Guess I'm a softie. #whereisSasha #ObamaFarewell

— Brian Greene (@bgreene) January 11, 2017
And some argued that it wasn't right to let the 15-year-old miss Obama's speech after eight years in the White House.
Omg Sasha has to take a damn science exam tomorrow this is NOT RIGHT pic.twitter.com/NWsLj2URfC

— josie duffy rice (@jduffyrice) January 11, 2017
But despite her absence, Obama spoke fondly of both his daughters during his speech.
"Malia and Sasha, under the strangest of circumstances, you have become two amazing young women, smart and beautiful, but more importantly, kind and thoughtful and full of passion," he said. "You wore the burden of years in the spotlight so easily. Of all that I've done in my life, I'm most proud to be your dad."
Cue the tears. We'll miss you, Obama!
Also on HuffPost
Malia & Sasha Obama Through The Years